Leica UK dismissed talk of Panasonic takeover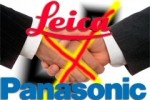 It has been a long week for Leica fanatics with the talks on Panasonic on the verge to acquire Leica's photography division. The thought of the German finest optics they've been worshiped for decades to fall onto the hands of the Japanese tech behemoth must be unbearable. Whether Leica could use a technology boost from the takeover, or Panasonic to separate themselves from another consumer camera marques, are not happening in near future.
The companies have dismissed such speculation. Panasonic with Leica's expertise remains as far as 'Lumix' at this point, the sell-off is just another hot air. After all, words from a serious bank banker with no proof is rumor at its best.
Nevertheless, in a separate quote, a Lecia UK spokesman told the Amateur Photographer that Leica will 'always be at the receiving end of company strategy speculation'. Simply put, Leica alone can't hardly stand in the cut-throated digital cameras market, their best seller so far is a re-branded Panasonic, can you blame them keeping that option open? On the other hands, that makes you second guess the banker's rumor. Does it?