Leica launches SF 58 flash unit and Super-Elmar-M 18 mm lens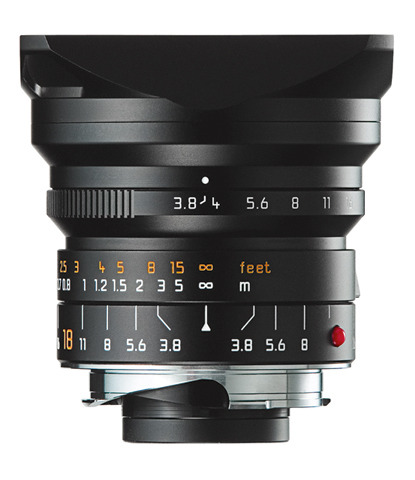 Words got out last week Leica is coming out with an ultra wide Super-Elmar-M 18 mm lens, and today, the announcement of the new Leica along with the SF58 flash unit are official. The new wide-angle lens is a better candidate than the Zeiss 18mm f/4 Distagon and can be used both on Leica M analog camera models, as well as on the digital Leica M8 or M8.2.
The LEICA ELMAR-M 1:3.8/18 mm ASPH optics are constructed with eight lenses in seven groups, one aspherical element and coated with high quality multi-layer coating. When use on the 1.33 crop sensor Leica M rangefinder, it has a field of view of 24mm lens (35mm equiv.).
Another item new to Leica is the SF 58 flash unit that's made compatible oto all Leica rangefinder, SLR cameras and can also be used with the new Leica S-system. Both the new Super-Elmar-M and SF 59 are shipping from March with prices to announce later.
LEICA ELMAR-M 1:3.8/18 mm ASPH
Focal length – 18mm
35mm equivalent focal length (APS-C) – 24mm
Diagonal Angle of view (FF) – 100°, 90°, 67° (diagonal, horizontal, vertical)
Diagonal Angle of view (APS-C) – 84°, 74°, 53° (diagonal, horizontal, vertical)
Maximum aperture – F3.8
Minimum aperture – F16
Lens Construction – 8 elements/ 7groups
Aspherical surfaces – 2
Working Range – 2.3 ft [0.7 m] to infinity
Weight – 10.9 oz
Dimensions – approx. 48.8/57.7 mm ( 1.92/2.27 in)
Diameter – 61mm
Lens Mount – For Leica cameras
Leica SF 58 flashFull compatibility with:
M System – M6 TTL, M7, M8, M8.2
R System – R8, R9
S-System – S2
Limited compatibility with all Leica system cameras featuring a hot shoe
(in automatic or manual flash mode)
Guide number – Max. 58 (ISO 100 / 21°)
Flash modes – TTL, automatic, manual, strobe
Swivelling reflector Vertical (-7° / +90°)
Horizontal (-180° /+120°)
Automatic / manual zoom reflector- 24 mm, 28 mm, 35 mm, 50 mm, 75 mm, 90 mm, 105 mm (35-mm format)
Display – Dot-matrix display
Automatic white-balance adjustment – Yes
Power supply – 4x AA, alkaline batteries (1.5V), lithium (1.5V), NiCad rechargeable (1.2V), NiMH rechargeable (1.2V), external power pack
Number of flashes (full power) – Alkaline (1.5V) – 180
Lithium (1.5V ) – 320
NiCad rechargeable (1.2V/600 mAh) – 70
NiMH rechargeable (1.2V/1600 mAh) – 140
Weight – 12.5 oz [355 g]
Dimensions – 2.8 x 5.8 x 3.9 [71 x 148 x 99 mm]
Optional Accessories – Diffusor