Although not exactly talked about as much, wireless charging is slowly starting to be a common feature in high-end smartphones (unless you ask OnePlus). Apple's addition of the capability in its latest iPhones is practically a seal of approval for the technology. Wireless chargers, however, have their drawbacks, specifically in the limited positions you can charge a phone. Eschewing a conventional horizontal or even inclined plane, Legrand's new Radiant wall plate lets you charge your Qi-compatible phone while hanging from a wall.
As a wall plate, this radiant product has no other choice but to be oriented vertically. For whatever reason, Legrand thought it wise to also include a Qi wireless charger beside the sockets, trying to maximize the power that flows through the plate. For wired charging, the wall plate does have two standard sockets and one USB A port.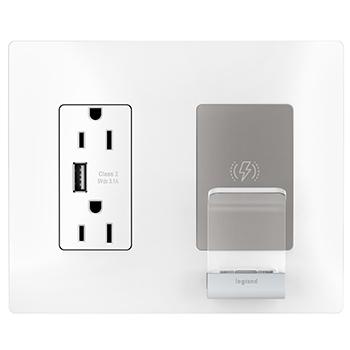 So what's the use case for this not so conventional design? Perhaps you have a wall socket in your kitchen and want to be able to watch something on your phone while working there at the same time. The wall plate does have a holder for phones, though it looks a bit precarious. Given how wireless charging works, you might be limited to keeping your phone in portrait orientation.
If you do feel the need for wireless charging on your wall, the good news is that you won't need to bore holes. The Legrand Radiant Wireless Charger can replace any standard, single-gang box. You do need some electrical expertise to make the switch. The wall plate costs $65 to $75 and is available in White, Ivory, Light Almond, and Black colors from retailers such as Lowe's and Fry's.