LEGO Star Wars Boost Droid Commander Coding Kit Arrives This Fall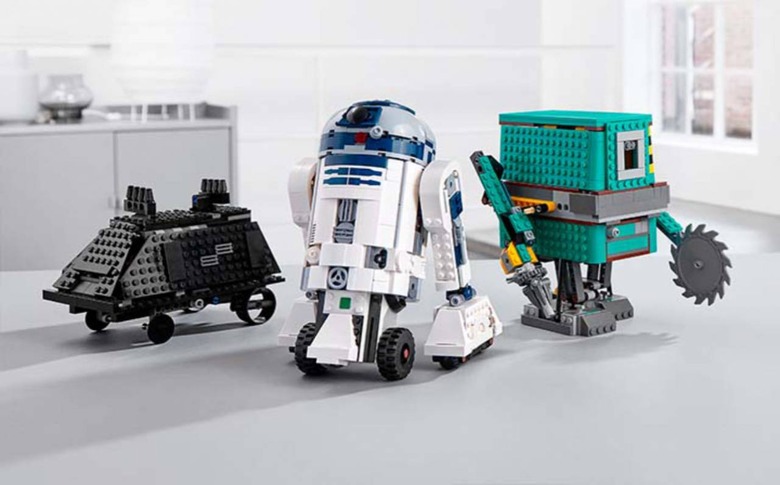 During CES 2017, LEGO introduced Boost, a product that helps kids learn to code. The company has announced the latest product to join the Boost lineup, and it involves one of the most iconic Star Wars characters. Called the LEGO Star Wars Boost Droid Commander kit, the set will include R2-D2 alongside two other programmable droids.
The LEGO Star Wars Boost Droid Commander kit contains 1,177 pieces that are used to create three droids: R2-D2, Gonk, and the Mouse. Players also get a companion mobile app available for iOS, Android, and Fire tablets that includes a game played in conjunction with the droids.
The game covers five popular Star Wars universe destinations, including Bespin and Tatooine, plus there are included pieces for crafting droid accessories for certain games. All of this joins the Boost line's drag-and-drop coding foundation, forming a product that helps kids form STEAM skills (the "A" stands for "Arts").
According to LEGO, kids will have the ability to create their own 'stories and battlegrounds' based on more than 40 interactive missions. The Boost coding, the company explains, was 'overhauled' for the Star Wars galaxy product; this is the first time Boost coding has been paired with a licensed product.
LEGO plans to release its new LEGO Star Wars Boost Droid Commander kit on September 1, 2019, ahead of the "Rise of Skywalker" movie. All three droids will be included with the set, including the necessary sensors, motor, and Bluetooth hub, for $199.99 USD.