Lego Mars Curiosity rover set official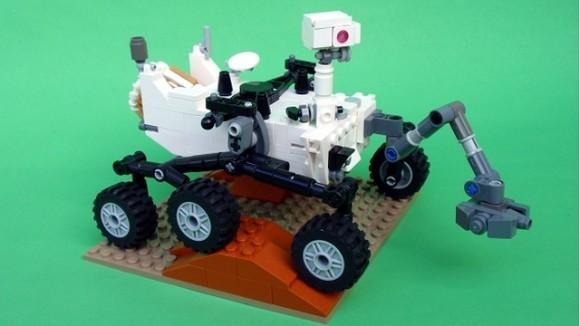 It's a great time for Lego: there's going to be a movie based on the building bricks, and the company just announced its latest set. As a part of Lego's Cuusoo project, fans are able to send in designs and ideas for future Lego sets, and the Mars Curiosity rover won this round, beating out the USC Sandcrawler from Star Wars and the Portal-themed Lego set.
The Mars Curiosity Lego set was submitted by Lego Cuusoo user Stephen Pakbaz (a.k.a. Perijove), who not only is an avid Lego enthusiast, but also is a mechanical engineer who actually worked on the team responsible for the Curiosity rover, so he had a lot of first-hand experience when designing and coming up with a Curiosity Lego set.
The set got the necessary 10,000 votes that it takes to get Lego to consider making it into an official kit. Because of Pakbaz's experience with the real Curiosity rover, he create the Lego model to be "as faithful to the actual rover as possible in terms of accuracy, details, and mechanical function, while remaining at a reasonable size and cost."
He says that "the primary purpose of this effort has been to contribute to the educational outreach for this incredible mission." In fact, Pakbaz already made eight of these new Lego sets by himself, since he says that his Curiosity Lego set design can be created using existing Lego pieces. He donated all eight sets to various museums and educational programs.
Other Lego sets that have become official from the Cuusoo project include the Minecraft set, which we took a look at ourselves a while ago, as well as a Back to the Future set that was the last project to get green-lit by Lego before the Curiosity rover. We still have yet to hear more details about the Back to the Future set, and no pricing or availability information has been decided on yet for the Curiosity Lego set.
SOURCE: Lego Cuusoo