LEGO Headphones ripe for DIY knock-off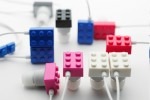 The pictures here really speak for themselves: Elecom have launched a set of LEGO-themed headphones, the PLAYBRICK EHP-CIN40, and if you've never quite been able to give up your childhood addiction with plastic building blocks then you're bound to find these appealing.  Supplied with four different earbud sizes, Elecom are even going so far as to suggest that sound quality is decent, though we'd believe that when we heard it.
Five color options are available – black, red, blue, pink and white – together with a mixed set of one blue, one red, and there's even a LEGO-themed cable grip.  No word on pricing nor availability, but this is something you could very easily recreate yourself with a glue-gun and a couple of spare bricks.
[via DAP Review]