Legend of Zelda prototype cartridge comes with hefty price tag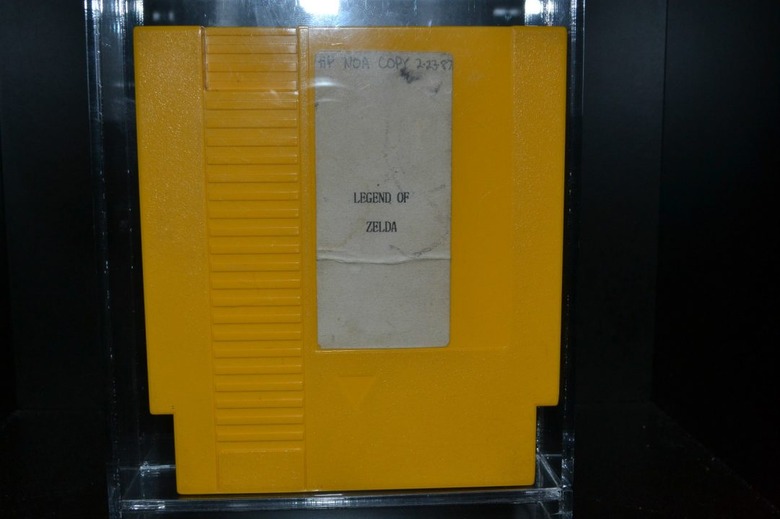 We all know about the ultra-rare and super-valuable Nintendo World Championship cartridges that pop up from time-to-time, but this prototype cartridge for The Legend of Zelda you see pictured below has a price tag that will make even the serious game collector cringe. Currently available on eBay, the cartridge comes with a Buy It Now price of $150,000.00. To be fair, seller tjcurtin1 is also including a factory sealed and graded copy of The Legend of Zelda, but the main star of this listing is clearly the yellow prototype cartridge.
It isn't much to look at, but the seller says that it still works and still even saves – not bad for a cartridge that is apparently dated February 23, 1987. If the cartridge was indeed made around that date, that means this copy of The Legend of Zelda was making its way around Nintendo of America's offices six months before the retail version released. For those doubting the cartridge's authenticity (or the claim that it's still in working order), the seller made a YouTube video demonstrating that the cartridge boots up just fine when popped into an NES. Check it out below.
Sadly, there don't seem to be any differences between this prototype and the retail version that hit shelves in August of 1987. The seller does point out that he hasn't played through it all the way yet, so there could very well be some differences which remain undiscovered, but if you're planning on buying, you should probably keep that little caveat in mind. If it isn't different from its retail cousin, you're buying the prototype because it's a prototype, and not because it provides an ultra-rare glimpse at gameplay elements that were left on the cutting room floor.
So far there have been 37 offers made on the prototype, and while a few are currently pending, most have been declined. That means there's still time to secure this bad boy, but the seller obviously won't abide low-ball offers. $150,000 is a lot to pay for a cartridge, and with this supposedly being the only one in the world, it's difficult to put a value on the prototype. We've got some pretty serious game collectors walking this planet, however, so the seller may just make his sale by the time everything is said and done.