LeapPad Ultra 7-inch tablet unveiled with market's first integrated kid-friendly browser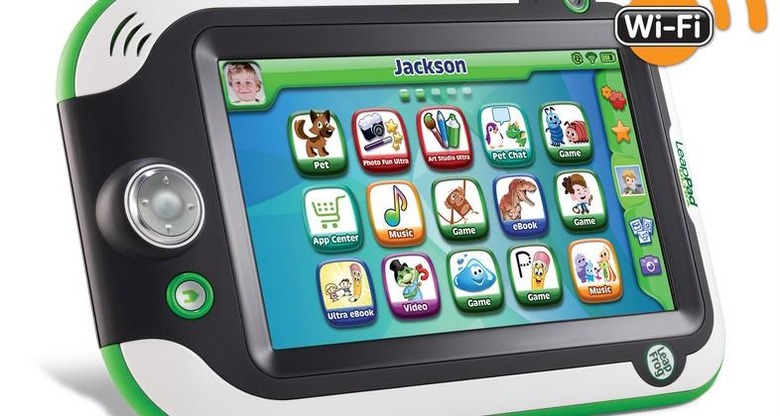 For those with children in their lives, tablet use presents a dichotomy of sorts: on one hand, they're excellent for practicing writing, and many educational apps are available. One the other side, however, is the reality that tablets are expensive and children have a habit of breaking expensive things. As such, LeapFrog's latest tablet, the LeapPad Ultra, is a 7-inch slate designed to be "kid-tough" while offering a built-in browser offering up youngster-friendly content.
As far as hardware goes, the tablet is basic, offering a 7-inch Duo Tech display specified only as "high-resolution." There's 8GB of onboard storage, as well as both a front and rear camera. The design itself is made for durability and easy handling, with a plastic body and wide bumper-like edges. There's a physical directional control pad, as well as a dedicated home button, and the speaker is located on the front. Connectivity comes in the form of Wi-Fi.
The software is designed for children, offering 800 apps in various categories ranging from music to pets. The interface is personalized with the child's name and picture, and has simplistic navigation. The most notable aspect is the integrated Zui LeapSearch browser, which is unique to LeapFrog and made to filter content so kids aren't exposed to anything unsavory. LeapFrog says the Ultra is the first kid-targeted tablet to offer such a feature.
And because no device aimed at children would be complete without it, the LeapPad Ultra has parental controls, such as a four-digital PIN and a syncing feature for adding content. The tablet is slated for pre-release in the US, UK, and Canada on July 17, hitting shelves in "early August" for $150. App prices will start at $5, while physical game cartridges will cost $30.
LeapFrog's CEO John Barbour said: "LeapPad Ultra has been designed to offer a safe and age-appropriate experience vetted by LeapFrog's in-house learning experts. Children can explore and play on their own while parents feel confident that their children are learning and engaging in a kid-safe environment with games, activities, videos and more designed just for them. With more features, including Wi-Fi with a kid-safe browser, we believe that LeapPad Ultra will be the top item on children's wish lists this year."
SOURCE: LeapFrog