Leap Motion takes on Kinect: cheaper and more accurate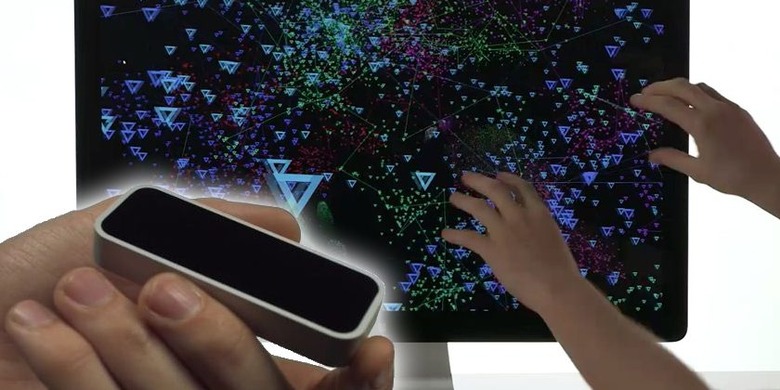 Leap Motion has revealed a $70 motion-tracking gadget promising 200-times more accuracy than rivals, and giving Microsoft's Kinect PC plans some serious competition in the process. Smaller than a smartphone, the Leap hooks up to your PC via USB and creates a four cubic foot area above your desk where each individual finger movement can be tracked to within 1/100th of a millimeter. The company suggests it's suitable for everything from Windows 8 navigation, through virtually signing documents or sketching, gaming, and interacting with complex 3D graphics.
Installation and calibration are all done automatically, meaning the Leap is supposedly ready for action within seconds of being plugged in. As well as tracking each of ten fingers, it can spot a pen being used for handwriting recognition and drawing, in addition to gestures such as pinch zooming and chiral rotate.
Leap Motion 3D demo:
[vms 137c3b6782e562794c2f]
Meanwhile, Leap Motion is working on a Leap SDK for developers, allowing them to hook the sensitive motion tracking into their applications. The company is planning an app store to help users discover those apps, while developers themselves may be lucky enough to get one of the roughly 20,000 free units Leap Motion intends to distribute.
Leap Motion 3D feature walkthrough:
[vms dd25f5a45fca73cad64b]
Although Microsoft has the market heft with Kinect, which has spawned a Windows version from the original Xbox 360 model, Leap Motion says the hardware itself lacks the accuracy. In fact, Kinect is said to be hundreds of times less capable at tracking movement, despite being more expensive and bulkier than the Leap.
Pre-orders for the Leap are being taken from today, priced at $69.99, with deliveries expected this winter.