Leap Motion demos Windows 8 gesture-control functionality ahead of beta launch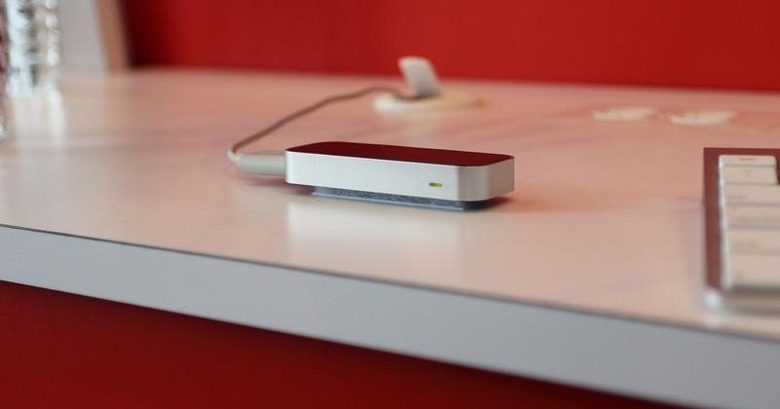 Leap Motion has rolled out a preview of its gesture-control functionality on Windows 8 (it will work for Windows 7 as well, though). In case you're not familiar with the device, it allows users to go hands-off when using their computer, controlling via gestures made in front of the display. We've got the preview video available for your perusal after the break.
As you can see in the video below, the Leap Motion device works via some smooth flicks of the wrist, finger plucks, and other such hands-off movements to control Windows without using a mouse and keyboard. This allows one to enjoy the touch-based design of Windows 8, for example, without a touchscreen panel, and brings the functionality to whatever computer you would like.
The device connects to a PC with a standard USB cable, and once connected works out of the box, no tweaking or such necessary. A 4-cubic foot span across your desk becomes your gesture-control area, with the device tracking finger movements to within 1/100th of a millimeter. The device itself measures in at about 3-inches long, so it won't take up much room at all.
As you might suspect, the device's usefulness extends beyond just tapping Windows tiles and scrolling through web results. As with a touchscreen device, it can be used to sketch, to sign digital documents, and to play games, among other things. Says Leap Motion, this video is a preview for those interested to check out before the device enters beta testing next month, during which period developers will get to use the unit.
Leap Motion CTO and co-founder David Holz said: "Out of the box, users will have the ability to browse the web, navigate their desktops, and interact with existing software. Everything you can do with a touch-based system, like Windows 8, can now be accomplished with Leap Motion technology. We want our users to have a magical experience, with easy and natural movements in the air leading to amazing interactions."