Leaked Samsung Galaxy S II I9101 is different under the hood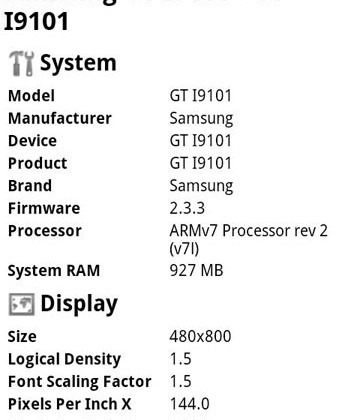 Earlier this week some spy shots of a new Samsung Galaxy S II smartphone with model number I9101 surfaced. We speculated at the time that the device might be the SII we have been expecting with NFC tech onboard. Spec sheets for the smartphone have turned up via the Samsung Singapore Facebook page and they show that the hardware inside the phone is very different form the existing SII.
The I9101 gets a 1GHz TI OMAP4403 chipset with a 1GHz dual-core Cortex-A9 CPU and PowerVR SGX 540 graphics. This same CPU was in the original Galaxy S putting the I9101 well behind the other SII in the hardware game. It is worth noting that the hardware might change before the official launch of the device.
There is some speculation that the I9101 might even use a cheaper Super Clear LCD rather than the Super AMOLED And screen of the current smartphone. I wonder now if the I9101 might be a cheaper version aimed at emerging markets or budget shoppers. There is no mention of NFC tech.
[via Android Community]