Leaked Moto X+1 images, specs note 1080p screen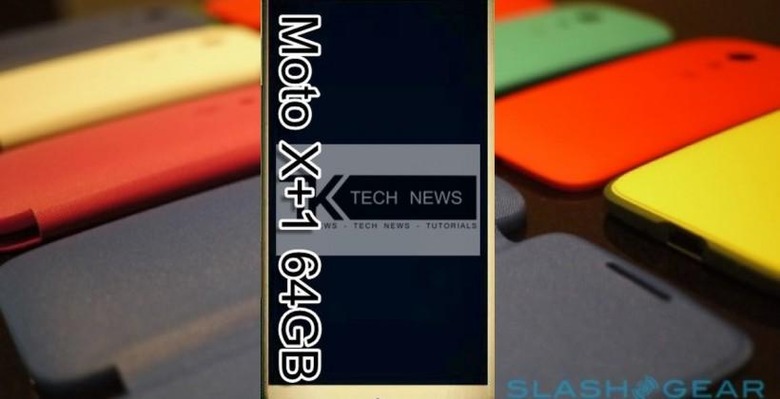 Ready for a new Motorola flagship? The Moto X is still a favorite, but it's high time for a refresh. A new batch of leaked images show what's believed to be the followup, unofficially dubbed the X+1. In addition to the video, we're also getting details on what the potential specs will be.
The device shown, which we'll note isn't officially anything as far as we can tell, looks like the Moto X as we know it. Same curve to the edges, and similarly thin bezels overall. The color looks to be some sort of champagne, though, so we're not quite sure if the Moto Maker will stick around. It looks as though we'll get prepared colors, just like any other device out there.
Spec-wise, the device is said to come in a few memory variants — 16GB, up to 64GB standard. A 1080p display is keeping with the AMOLED we loved in the Moto X, which likely means the active notifications are sticking around. A microSD card slot is also said to be on offer, along with 2GB RAM. The camera is also said to be getting an upgrade, with Motorola deciding between two different hardware options at this point.
We don't know what the SoC will be, and there is no hard timeline for a release. The tipster says late August or September, and it depends on the camera hardware used at this point. We've heard nothing from Motorola yet, so there's no telling when we'll actually see an upgrade.
All told, this device is a natural upgrade to the Moto X — if it's really the X+1. Lenovo and Motorola made a wise choice in not breaking the mold, here. What do you think? Does a slightly updated Moto X make you want one, or are bleeding edge specs more your thing? Let us know in the comments section below!
Source: TK Tech News