Leaked iPhone schematic reaffirms larger screen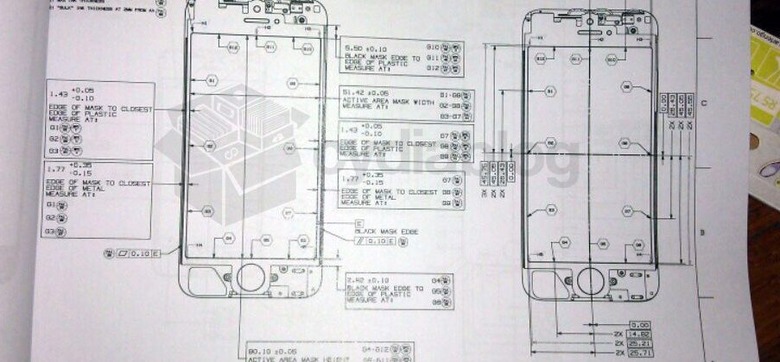 More and more rumors seem to be pointing towards a new screen on the next iPhone with a different aspect ratio. Yesterday we saw case parts leak out that showed the taller form factor of the next iPhone, along with a repositioned 3.5mm headphone jack, larger speaker grills, and a redesigned dock connector. Now schematics have been handled to MacRumors that again shower a longer iPhone with a different aspect ratio.
The schematics looks eerily similar to the backplates that were leaked yesterday, and include measurements which back up information regarding a larger screen. The active area mask of the schematics corresponds to a diagonal size of 4.08-inches, and taking the bezel and actual viewable area into account, falls neatly in line with the 4-inch screen rumor. The aspect ratio would also work out to 16:9. with width staying the same while height is added to the display.
The photo also shows how the front-facing camera on the iPhone will be repositioned. Currently the iSight camera is located to the left of the earpiece, but seems to have been moved above the speaker. That also matches up with the front part of the case that was leaked yesterday in photos.
Rumors have indicated that the next iPhone will feature a 16:9 screen with a 1136x640 resolution. Apps will reportedly be tweaked to make use of the additional resolution instead of simply scaling. In addition, reports have detailed how Apple is planning to overhaul the Maps application in iOS 6, dropping Google Maps support in favour of its C3 Technologies acquisition. The new app would be redesigned with a new color scheme, and feature a 3D mode.