Leaked image tips LG Optimus G Pro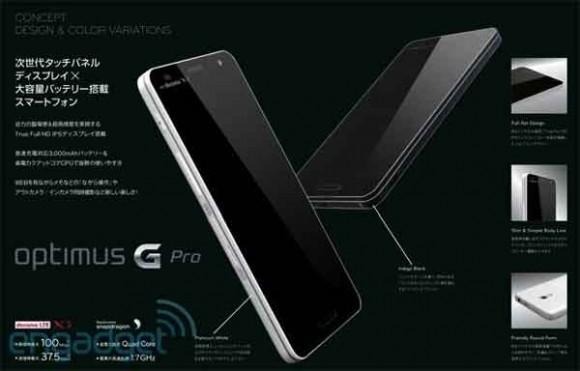 If the LG Optimus G got you excited with its quad-core Snapdragon S4 Pro chip paired with an LTE radio, you will want to check out the leaked slide that has turned up today. The slide was leaked to Engadget by an anonymous source and shows the LG Optimus G Pro smartphone. If the slide is correct, the new Pro version has some very nice upgrades.
The G Pro has a five-inch screen featuring full HD 1920 x 1080 resolution. That is a much better resolution than the 4.7-inch 1280 x 768 screen of the non-pro version. The processor inside of the original Optimus G ran at 1.5 GHz. The new Optimus G Pro is tipped to operate at 1.7 GHz using a Snapdragon S4 Pro APQ8064 processor.
Other hardware specifications gleaned from the slide show that the device would have 2 GB of RAM and 32 GB of integrated storage. The phone is also tipped to feature LTE 4G connectivity and a 3000 mAh battery powering works. Other specifications that have surfaced about the phone claim a weight of 160 g and physical measurements of 139 x 70 x 10.1 mm.
Scuttlebutt also says that the phone will run Android 4.1 and feature 13-megapixel rear camera. The front camera on the smartphone is tipped 2.4-megapixel resolution. The phone is also tipped to have One-Seg and NOTTV functionality inside hinting that the device is likely for Japan only. We hope a version for the US will turn up later.
[via Engadget]