Pantech Perception leak shows Verizon branding and HD display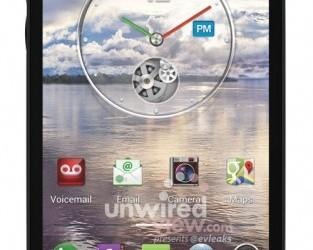 Both Verizon and Pantech have been at CES, yet neither have mentioned the Pantech Perception smartphone, which has popped up via @evleaks. The leak details some nice specs, as well as a screenshot of the handset's display. Details are sparse, but if the leak is true, we'll be seeing the Perception at Verizon in the future.
The Pantech Perception is said, via the leak, to run a 1.5GHz Qualcomm Snapdragon S4 processor with 1GB of RAM. The display is almost in the phablet range at 4.8-inches offering HD 1280 x 720 resolution. Other specs, such as internal storage space, battery capacity, and which version of Android it's running are unknown.
This won't be the first Pantech cell phone to make its way to Verizon, with the carrier already offering the Pantech Marauder, a lower-end handset. Likewise, AT&T also offers a Pantech smartphone, the Discover HD, which also features a 720p HD display. This will make the Perception Pantech's second HD display-wielding handset.
Unfortunately, there isn't any word on how much the Pantech Perception will cost. The company's current HD smartphone offering, the Discover, costs only $49 when purchased with a two-year contract, and the company is known for relatively low pricing in general. We're hoping the Perception will have a similar price, but until then, we'll be keeping an eye out for this handset.
[via Android Community]