Leaked Ford GT500 Images Are Reportedly From Dealer Meeting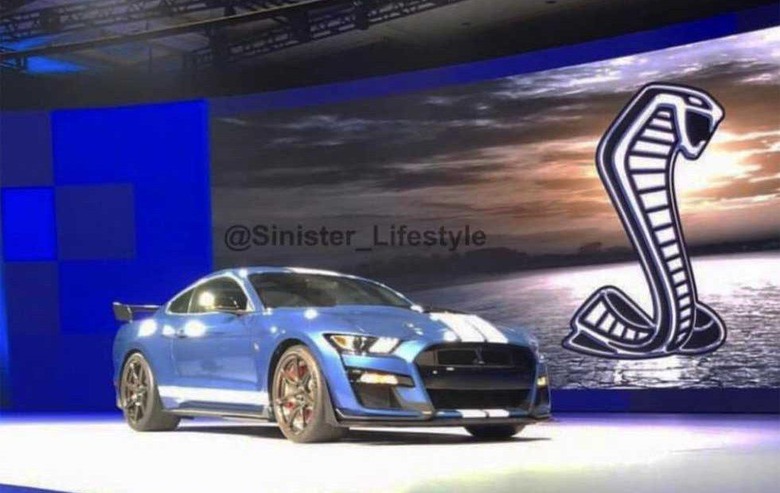 We are very excited at the prospect of a new GT500 around here. There have been several rumors about the car, with one hinting the Mustang would have a 200mph top speed. The new leaked images are claimed to come from a dealer meeting where the car was introduced and the ride in the pictures certainly looks like what Ford has been teasing.
The leaks claim that details offered up at the Las Vegas dealer meeting indicate power in the 780 to 790hp range. The 10-speed automatic transmission that has been rumored is said to be an option. Some feared that the GT500 would be offered with an automatic only.
The 6-speed manual is tipped to be the base transmission offering and the one purists are most likely to want. The car is said to wear lots of carbon fiber tidbits and to have lots of aerodynamic elements fitted. Aero and carbon fiber might mean the car will have a road course focus along the lines of the Ford Shelby GT350.
Traditionally the GT500 Mustang has been more of a straight-line car meant for the drag strip and rarely seen on a road course. Obviously, Ford isn't talking about the car right now. Word is that cell phones were checked at the door of this event, but clearly at least one got through.
The gigantic opening in the front of the car is presumably to allow the supercharged engine to slurp in more cooling air. Power robbing heat soak is always a concern with supercharged cars and high-performance use. There is no word on when the car will launch, but it has been rumored for some time next year.
SOURCE: Mustang6g