Layout From Instagram Arrives On Android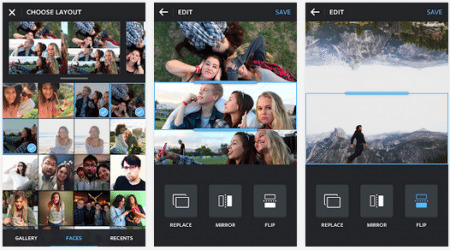 Instagram introduced its "Layout" collage photo app for iOS back in late March, and now Android users are finally able to enjoy it. As of today, Android users can download Layout from the Google Play Store and remix their photos into collages of various sizes and arrangements (up to 9 photos). In order to use it, though, you'll need to be running Android 4.1 or higher. It's not required to sign up or have an account to use the app, however.
Layout is simply a photography app that specializes in creating collages and similar structural remixes of images — if you've used a collage app in the past, you'll be familiar from the get-go with what Layout has to offer. There's both a Photo Booth for taking pictures and the option to use existing pictures from your Camera Roll.
In addition, the app includes a "Faces" tab for sifting through the library to see only the pictures with people in them. Users can view their last 30 photos within the "Recent" tab, and can save collage layouts to the camera roll for sharing on social networks.
Of course, the collages can be used with Instagram's own filters to give them that Instagram flare. All the tools are there like "flip" and "mirror", and collages can be made in different arrangements depending on preference and photo number.
SOURCE: Google Play