Latitude Notebooks Available without Windows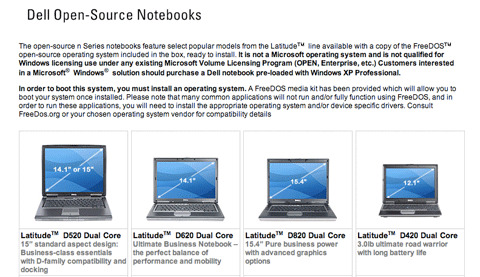 Matt Domsch, Linux Software Architect for Dell posted on Direct2Dell blog that Latitute notebooks will joins the n-Series which ship without operating system pre-installed out of suggestions from Dell IdeaStorm, a newly launched community bridge that allows Dell to listen to customers input such as suggesting new products or services.
Latitude D420, D520, D620 and D820 will be available as part of the offering and ready for customers to install Linux OS. FreeDOS is also bundled on CD in the box with these systems.
Dell however stated they has not tested any particular distro and does not offer software support for Linux. You can usually get community support in distro specific mailing list or discussions forums.
Latitude Notebooks Join Dell n-Series [via direct2dell]