Latest leaks show best Galaxy Note 8 features yet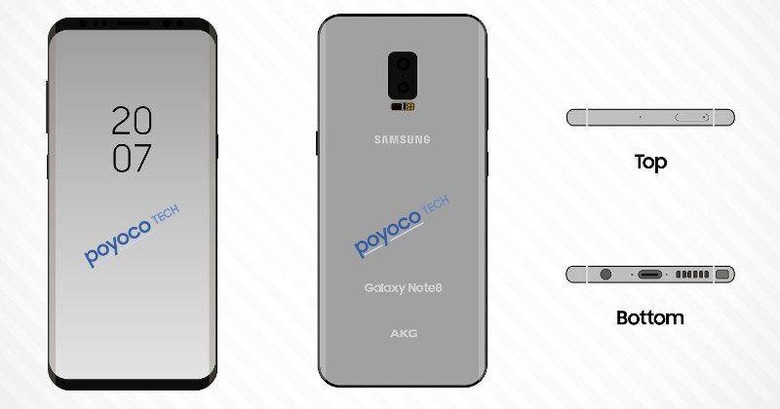 Have the masses put the tragedy of the Galaxy Note 7 behind them far enough? Samsung does seem to think so if it's willing to put new and still unproven features in it. Based on a new set of leaked images, the Galaxy Note 8 is poised to get some long-awaited features, including dual cameras and, perhaps more interesting, a fingerprint scanner hiding beneath the screen.
Those two features are not set in stone yet, but they are pretty much expected and hoped for. Samsung is one of the last remaining holdouts in an era of dual cameras, though it is still doing quite well despite having only one. Imagine, then, what it could accomplish with two.
A leaked render of the alleged design of the Galaxy Note 8 pretty much shows how the dual cameras will be placed on the smartphone's back. Vertical instead of the horizontal arrangement of its rival LG. What the image doesn't show, thankfully, is the oddly placed fingerprint scanner. Its absence on either side of the phone can only mean one thing: an on-screen sensor.
Samsung Galaxy Note8 looking dope ! #Note8 #Samsung #NextGalaxy #iPhone8 #UnboxYourPhone pic.twitter.com/lyq15zr0Py

— Poyoco Tech (@PoyocoTech) June 6, 2017
Granted, that may have always been the plan for the Galaxy S8 but delays forced Samsung to make a last minute decision. With enough time, the Galaxy Note 8 stands a better chance of sporting this feature.
The Galaxy Note 8 is also expected to sport Samsung's much boasted Infinity Display. It would be silly if it didn't at this point in time. But it will have an even better Infinity display. How much better? Well, according to another leak, it will have a smaller corner radius, which means a few more pixels saved for actual content.
About Samsung Galaxy Note 8, smaller angle, which is 100% sure the message. pic.twitter.com/OJDXcLUPkg

— Ice universe (@UniverseIce) June 6, 2017