Latest Galaxy Note 6 rumor gives it 5.8" screen, 4000mAh battery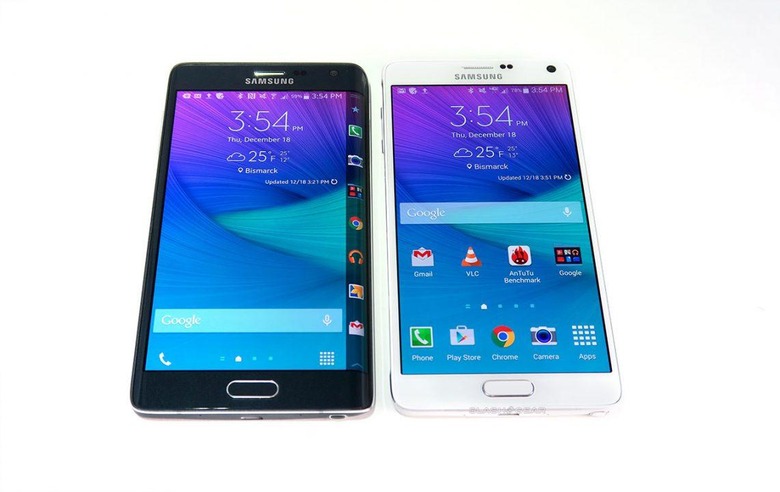 We still have about four months to go, but it seems the speculation and confusion surrounding Samsung's next flagship is already starting to heat up. Details naturally change with the tide but some seem to stick like glue. For example, there's the idea that the Galaxy Note 6 will have 6 GB of RAM. Another detail that seems consistent in rumors is that there are two variants in the works, one normal and one with a curved screen. This latest source leak does agree, but qualifies that in the end, there can only be one.
In other words, those two variants spoken of by other leaks are actually just prototypes, at least according to this leak. Samsung, however, will supposedly still have to decide which of the two, but not both to actually launch. The two supposedly have no difference whatsoever except in that regard. Furthermore, both supposedly have a 5.8-inch screen, not the earlier leaked 5.7 and 5.9 variation. It is interesting that Samsung decides to bump the size up again, even by 0.1 inches, after having retained it for two generations.
Another information gleaned from this leak is that the Galaxy Note 6, which ever model comes out, will actually have a huge 4,000 mAh battery. That's definitely a substantial jump from the 3,100 mAh leaked previously. It will definitely help alleviate battery anxiety and could justify the size increase. That, also, sounds a bit too good to be true for Samsung.
Other details leaked include the same 12 dual pixel rear camera that debuted with the Galaxy S7 and a fingerprint scanner. The possibility of an iris scanner is still uncertain. The Galaxy S6 would launch with Android N running off the bat as well.
The concept of a curved screen Galaxy Note is intriguing and, at the same time, perhaps unpractical for this phablet line. After finally going with a curved back for a better grip in the Galaxy Note 5, going back to a flat one for the sake of a curved screen might seem like a step back. Unless Samsung actually plans on curving both faces, ending up with a rather weird shape for a smartphone. It would, however, affirm the speculation that there would be no Galaxy S7 edge+ coming.
But a curved screen for a Galaxy Note 6 might not make sense in one aspect, an aspect that is core to the phablet's essence. The Galaxy Note's existence revolves around a stylus, and, despite the fanciness of a curved screen, drawing on a surface where you can't comfortably draw or write on the edges because of the slippery curve just wastes a few pixels worth of screen estate for the sake of fanciness.
VIA: GSM Helpdesk