Laserdisc pronounced dead in Japan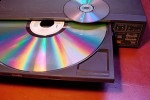 Pioneer is finally letting go of its Laserdisc video format, declares cease production of the first commercially available optical disc storage medium for home video format since the late 80s. Yeah, seriously, I thought it was long obsolete, but apparently they're still in production till now, offering CD/DVD/LD combo discs player and standalone LD player for as much as whopping $1000 a pop on company online store.
The company will continue to sell the remaining stock of 3000 LD players from DVL-919, CLD-R5, DVK-900, DVL-K88 till it run out, that includes commitment to repair the unit when necessary.
Parts of the reasons were the cost of the parts and the immense, popularity of DVD, and now the much superior Blu-ray Disc format. But face it, Laser Disc is cumbersome and the format is inferior compare to the legacy DVD. I couldn't care much for VHS, let alone LD, Ciao!
[via electronichouse]