Laser Turntable drops sub-$10k; any takers?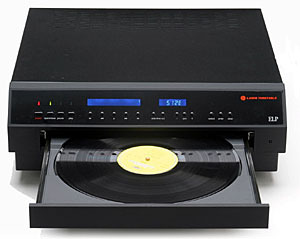 Seriously, I remember this slab of tech from, like, twenty years ago on Tomorrow's World.  It's a laser turntable for your vinyl, you sexy bearded classic audiophile – don't put up with wretched scratching on your favourite Val Doonican LP, allow the five carefully focused lasers to caress the grooves and extract every last sod of music.
Careful tracking means the music isn't affected by twists or warps, and since it apparently reads at a tiny 10 microns from the top of each groove it's actually aimed at areas of vinyl untouched by needle.
So if this is such old tech, then why post about it now?  Well, if you've been holding off on buying a laser turntable (what, really?  It's actually on your shopping list?) then you'll be pleased to know that ELP have slashed a third of the asking price off and reduced ownership to under $10k.  I'm sure it's not because of the move to digital music and ensuing failing profits for "old tech" industries, oh no.  They're just generous.