Laser Pod Orb Provides High-Tech Lightshow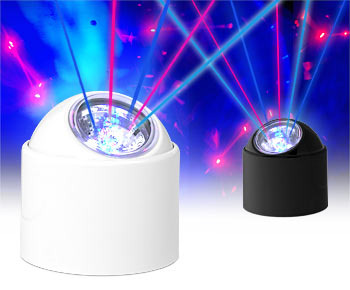 This item could be a party enhancer, night-light, or main light fixture.  The Laser Rod Orb is a table, wall, or ceiling mountable light show that projects three lasers and multiple light in various directions a.k.a. your own personal rave.   It's not DMX 512 compatible and it won't hookup to your ETC lighting board but it does the job.  This visual toy has a swiveling directional head to adjust the light and a motor driven crystal with three LEDs included.  The motor driven crystal will provide you with a random patterns of light and laser.
Can you ask for much more at its low pricetag?  No, it's not a theatrical or stage light but it's great for birthdays and parties; especially New Years Eve celebrations.  On the downside it doesn't come with remote control and lacks sound activation.  It's marketed to the 12yrs+ demographic which includes us all.
Price: $71.91
Laser Pod Orb [Via: iwantoneofthose.com]