Land Rover shows off two new Defender concepts at Frankfurt Motor Show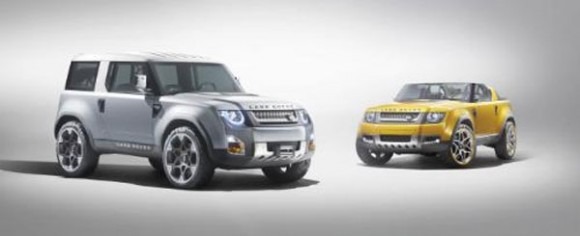 Land Rover is well known for making some of the most luxurious SUVs on the market and some of those SUVs despite their luxury are extremely capable off roaders as well. Land Rover is on hand at the Frankfurt Motor Show and is showing off a couple of very cool Defender Concepts at the show. The concepts are the DC 100 and the DC100 Sport. Both of them share some common features with a three-across front seat, which most of us would call a bench seat, to look like the early Land Rover vehicles.
The concepts have Land Rover Terrain-i scanning devices onboard to warn the off-road driver when there is an obstacle and can suggest alternative routes. The concepts also have a feature called Wade Aid that uses sonar to tell the driver how deep the water is they are trying to cross and advises the optimum speed for making it across the water. This next feature sounds like something James Bond would have, the driver can deploy tire spikes for increased traction on ice and snow with the touch of a button.
This feature is a bit far out, Land Rover says that the two concepts use future paint technology to self-clean and heal the paint and bodywork if you ding the car up. For efficiency, the vehicles have 2L 4-cylinder engines in gas and diesel versions and hybrid technology with a plug in for charging battery systems. The transfer case also physically disconnects the rear axle to save fuel when four-wheel drive isn't needed and the engine has start/stop tech too. Land Rover has also confirmed its intent to launch a new Defender in 2015. I suspect that the looks of these might be pretty close to what hits show rooms in North America.