Land Rover Discovery Vision Concept: Inside Tomorrow's SUV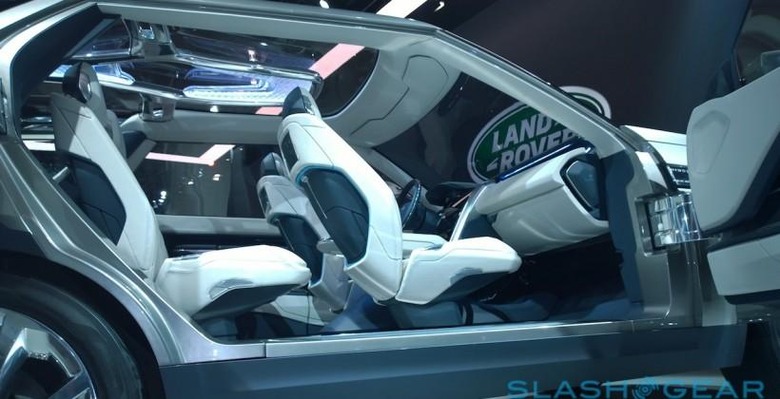 Land Rover may have a history of tough, mud-plugging SUVs, but the Discovery Vision Concept ramps up the tech as well. Shown off at the New York International Auto Show – complete with its "transparent hood" – the car may be a concept but it's also a preview of the upcoming next-gen model for the road. SlashGear caught up with Jaguar Land Rover Design Studio Director Richard Woolley to find out the thinking behind the Discovery Vision Concept, as well as how it will shape future production SUVs.
It's clear from the outset that you're looking at a concept vehicle, not a road-going one, with the huge suicide doors giving a show-friendly view into the entire cockpit. They do address one of the lingering issues big SUVs face, however, of trying to get adults into three rows of seats.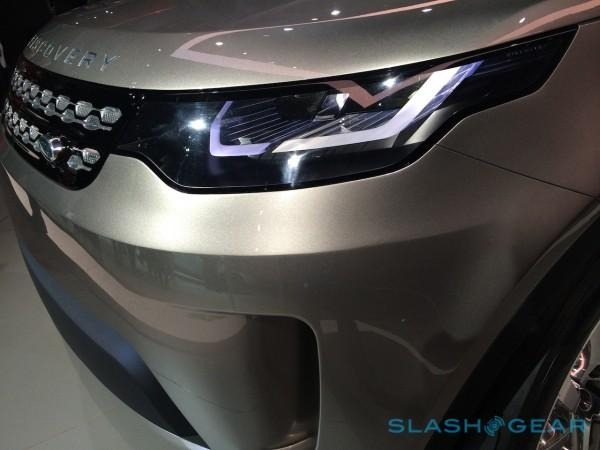 Land Rover has managed to fit seating for seven adults in the Discovery Vision Concept, and has taken a couple of approaches to how that space is accessed and used. In fact, the seating is reconfigurable using a smartphone app, Woolley explained to us.
Jaguar Land Rover Design Studio Director Richard Woolley
Meanwhile, there's smart tinting to the glass – both the side windows and the full-length moonroof – which can be darkened or lightened by remote control. The door handles have been replaced, inside and out, with motion sensors, so you can open the car up with the wave of a hand.
Those same gestures are used for other controls, like the indicators and settings accessed through the center console stack.
While style has obviously been a focus on recent models like the Range Rover Sport and the crossover-esque Evoque, Discovery needs to be more at home off-road. For the concept, some of Land Rover's autonomous driving research has turned up, with the Vision Concept able to analyze upcoming terrain and navigate its own way through the safest route.
That same low-speed self-driving can be used to send the Discovery off to a parking space; alternatively, it can be controlled remotely from a smartphone.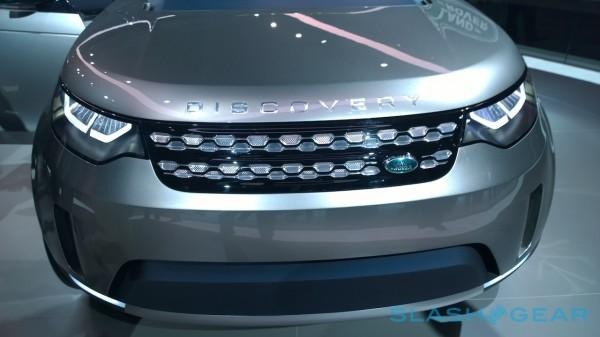 Lasers integrated into the lights and the bumpers assess the road and terrain conditions around, educating the autonomous system as well as giving the driver information that's projected onto the windshield and windows. Land Rover calls it smart glass, and it can even figure out the depth of water obstacles before the chunky wheels even get wet.
Unsurprisingly, Land Rover isn't making any promises about when we might see some of the more futuristic features show up in production cars, though the Vision Concept is a preview of what we can expect when the new Discovery is revealed next year.
It's also likely to include Land Rover InControl, a new infotainment system that the company demonstrated to us in a new 2015 Evoque. Connecting an Android or iOS app to the dashboard touchscreen via USB, InControl offers both regular phone features like hands-free calls and text-to-speech for messages, along with a collection of third-party apps for things like news headlines and even remotely connecting to an enterprise system if you need to do some work on the move.
"This concept really does set up our stall in terms of the way we're thinking about what the Discovery family of vehicles could be," Woolley explained, "not only from a design language point of view, but also from a technology point of view as well."