Land Rover Discovery Navigates C-130 Hercules Cargo Plane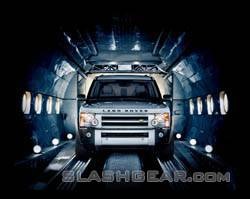 The sky's no longer the limit for Land Rover North America as an LR3 (Discovery 3 in Australia) has accomplished something no vehicle has ever done before.
In the second instalment of the 'Designed for the Extraordinary' marketing campaign which kicked off earlier this year, a 2006 LR3 (Discovery 3) is filmed boarding a C-130 Hercules cargo plane. Once airborne the Hercules crew used the LR3's navigation system to direct the plane from Nice, France to the island of Corsica in the Mediterranean Sea. At a height of 2,743 metres (9,000 feet), the navigation system equipped in the LR3 was able to accurately direct the plane to its destination.