Land Rover Defender survives another incarnation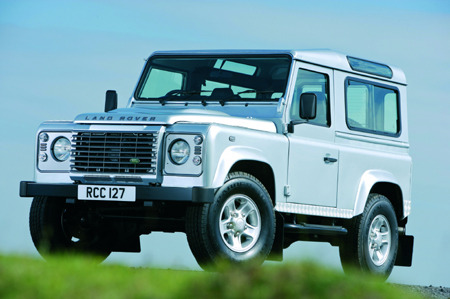 I have to confess, I'm not the biggest fan of SUVs.  Not for any tree-tonguing environmental reasons, just because they seem a bit "try too hard" unless they're actually owned by people who really do need 4x4 capabilities.  I'm talking farmers, people trying to cross deserts and NASA moon rovers, not soccar moms scaling the kerb at the local Walmart.
However, there's something about the idea of a Land Rover Defender, a 3-door in black, that tickles my car-geek tastebuds.  And now I have a 2007 model to secretly covet, with a new 2.4 litre diesel engine and the bulging bonnet to accomodate it.  My shameful on-road journeys would be made in as close to luxury as the Defender has ever managed, with a redesigned dash featuring heaters that might even work and a radio that picks up more than the shipping forecast.  Meanwhile, my off-road journeys would be aided by a new, lower first gear that promises improved responsiveness.
Sadly I won't be able to afford both the Land Rover and the several acres of land to play in that my easily-shamed ego would demand. 
Photos of the 5-door and the interior after the jump.
2007 Land Rover Defender unveiled [Autoblog]