Lamborghini Sian pairs V12 power with hybrid tech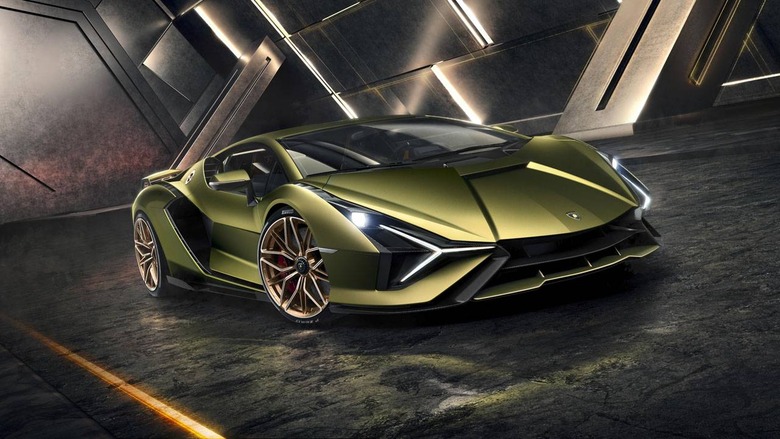 Lamborghini has unveiled a new concept car that points to a future where the iconic Lambo V12 has a place along with electric hybrid technology. The car is called the Lamborghini Sian, and it has a V12 engine that is paired with what Lambo calls "groundbreaking hybrid technologies" that combine to create a super sports car of the future.
The combined power from the V12 and electric systems produce 819 hp, making the Sian the most powerful Lamborghini ever made. The weight-to-power ratio for the car is the lowest for the V12 Lamborghini family in history.
Lambo says that the Sian will reach 100 km/h from a standstill in under 2.8 seconds and have a top speed of over 350 km/h. The car is a concept for now, but it is already greenlit for production with only 63 units to be built. All 63 units are already sold. The electric motor is a very mild set up and uses a 48V e-motor.
That motor makes a scant 34 hp and is incorporated into the gearbox. The system promises immediate response and improved performance. The e-motor supports low-speed maneuvers like parking and reversing with electricity only. Lamborghini doesn't use a battery inside the car to power the electric motor.
Rather the Sian uses a supercapacitor application that stores ten times more power than a system initially designed for the Lamborghini Aventador. The combined weight of the supercapacitor and e-motor is only 34kg. The V12 makes 785 hp alone, which is the highest output ever for a Lamborghini powerplant. The car has some classic Lambo styling cues, like the taillights inspired by the Countach. The Sian name means flash or lightning in the Bolognese dialect.