Lamborghini Huracan Sterrato Concept is an off-roader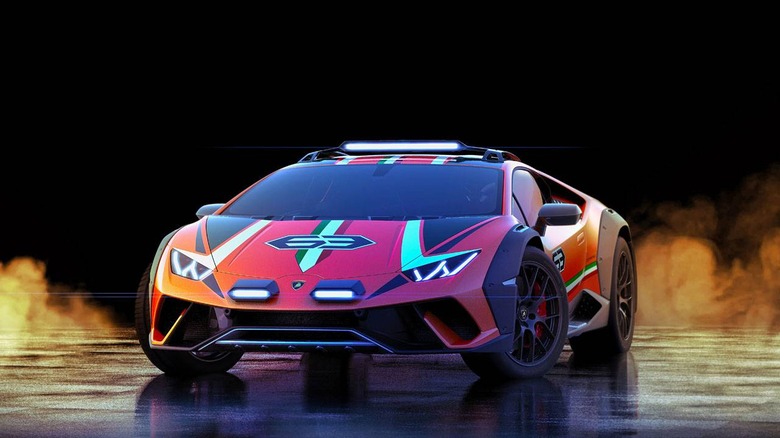 Lamborghini has unveiled a new concept car that might be the coolest off-roader that the Italian brand has ever offered, and it has offered some cool off-road rides in the past. The concept is called the Lamborghini Huracan Sterrato, and it is based on the V10 Huracan. Lambo says that the new concept car draws on its off-road expertise exemplified in the Urus Super SUV.
The base for the Sterrato is the Huracan Evo, and the concept uses the same 5.2L naturally aspirated V10 making 640hp. The car uses the Evo's LDVI system with predictive logic to control Sterrato systems including the four-wheel drive, four-wheel steering, the modified suspension, and torque vectoring.
The system is calibrated for use on low traction surfaces and to enhanced real-wheel drive behavior. The vehicle has raised ground clearance by 47mm, the front approach is "sharpened by 1%" and the departure angle enhanced by 6.5%. The concept has a wheel track that is widened front and rear by 30mm.
The Sterrato rolls on 20-inch wheels with balloon tires set into new wide-body arches with integrated air intakes. The underbody of the car has reinforcement and protection with a rear skid plate that acts as a diffuser. The front frame is covered with an aluminum skid plate.
Lamborghini also fits the concept with special protective composite bodywork that has stone-deflecting protection around the engine and air intakes along with mudguards in carbon fiber and elastomeric resin. An off-road light package includes roof-mounted LED light bar and LED bumper lights with a flood function. The interior is designed to reflect the off-road nature of the vehicle, and it has four-point seat belts and carbon bi-shell sport seats and aluminum floor panels.