Lady Attaché flash drive from PNY - even Paris would say "That's Hot!"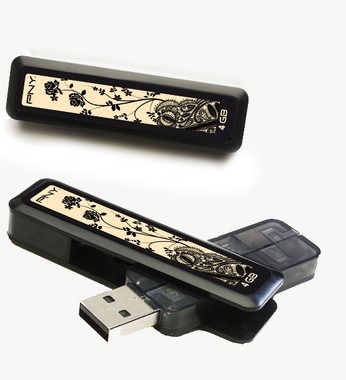 This new flash drive from PNY doesn't have any special technical features, it packs in your choice of two or four gigabytes of storage and is built in such a way that when closed the USB port is protected. What it does have is a bit of fashionable appeal attached to it due to its design, shape, and color allowing it to be an attractive storage option to all the ladies out there who prefer attractive gadgets.
The flash drive is thin, slim, and roughly the size of a lipstick, or smaller, and has a fashionable design involving flowers and some other junk. With this flash drive you can store a whole heap of music, photos, movies, and even the ever important digital rolodex.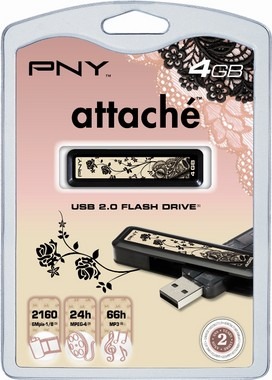 Other possibilities include homework, work documents, and username and password information in case you can't be bothered to memorize such things. However there is no security on the drive, so be careful what you stick on this thing. Apparently this drive will be selling for roughly $60, for the 4GB version, no word on the 2GB version and it doesn't appear as though either are actually for sale yet.
[via PNY]