LaCie Wireless Space: the Sith's Time Capsule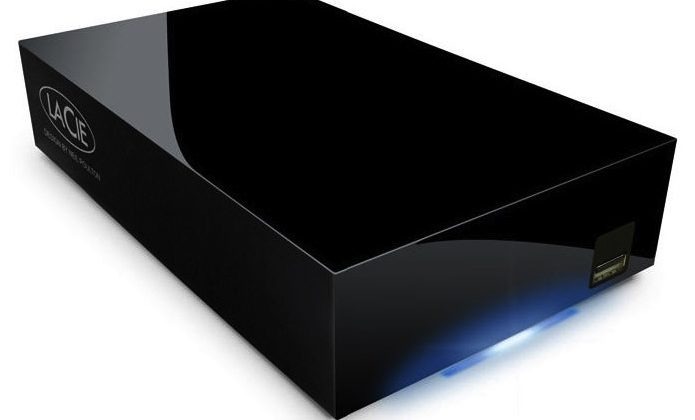 LaCie has outed its latest external hard-drive, the Wireless Space, and while the Neil Poulton designed 1TB and 2TB drives may look a lot like the company's other blocky models, inside there's a whole lot of wireless goodness simmering away.  The LaCie Wireless Space is a combination NAS, gigabit ethernet and WiFi b/g/n router, media server and network extender, basically the company's own version of the Apple Time Capsule.
On the back there are three gigabit ethernet ports – which will work as a switch – and an upstream gigabit port, together with a pair of USB 2.0 ports for hooking up external drives or printers.  Another USB 2.0 port is on the opposite edge, while inside there's 2.4GHz single-band WiFi b/g/n and either a 1TB or 2TB hard-drive.
Media – whether photos, audio or video – loaded onto the Wireless Space can be shared easily using UPnP or DLNA, and Mac users can set it up with Time Machine as if it actually were a Time Capsule; it'll function as an iTunes library, too.  It's available today, priced at £179.90 ($281) for the 1TB.
Update: US pricing is $229.99 for the 1TB and $349.99 for the 2TB.
Press Release:
LaCie Wireless Space: Versatile Wireless Storage

LONDON, UK (Thursday 16th September, 2010) – Today, LaCie introduces its first network-attached storage solution to feature Wi-Fi. The LaCie Wireless Space can operate as a file or media server for multiple Mac® and PC users, from anywhere in the home – making it the most compatible and multifunctional network hard drive on the market.

Leveraging Wi-Fi technology, the Wireless Space can connect to your existing Wi-Fi network, allowing you to access files wirelessly throughout the home, and can serve as a central storage solution for all your backups. If you wish to increase your Wi-Fi performance, the Wireless Space can also act as a b/g/n access point, and even serve as a full-featured router.

"There are a variety of network devices you need to buy to have a full solution to connect your computers, share media and back up your files," remarked Julien Ott, Product Manager for Network Attached Storage, LaCie. "LaCie is thrilled to bring Wi-Fi connectivity to the Wireless Space and deliver a truly all-in-one solution for the varying different network needs of any home."

For users with a large media library, the Wireless Space can also act as a media server. It's compatible with UPnP/DLNA and iTunes, and you can stream music, movies and photos from a central location and play them on any device.

Additionally, the Wireless Space is Time Machine compatible, so Mac users can use it as a target for their automatic backups and be confident that all important files and media are safely protected. LaCie also delivers Genie Timeline Software for scheduled backups on the PC.

Designed exclusively for LaCie, Neil Poulton's sleek, polished black design is engineered for natural heat dissipation and near-silent operation. The sophisticated design and Wi-Fi functionality of the Wireless Space makes it a perfect addition to any home network.

Availability

The LaCie Wireless Space is available as of today, in 1TB and 2TB capacity through the LaCie Online Store, LaCie Corner, and LaCie Reseller+ starting at £179.90. For more product information, visit www.lacie.com/uk.