LaCie Unveils Stealthy PetiteKey USB Flash Drive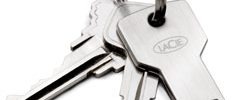 LaCie has unveiled its newest key-shaped flash drive, the PetiteKey. This USB drive is 30-percent smaller than its predecessor, the iamaKey, making it easier to carry on a key ring. In addition to being stealthy, the drive also offers Private-Public encryption to keep files safe and one year of Wuala Secure Cloud Storage.
The PetiteKey offers several features, including being waterproof up to 100-meters, something that's perhaps most convenient for those times your keys find their way into the washing machine. The connector is scratch-resistant, a necessary feature due to both the drive's cap-free end and its perilous life on a key ring. The PetiteKey offers USB 2.0 connectivity.
Bundled with the PetiteKey are two extra services: Private-Public, and Wuala Secure Cloud Storage. Private-Public is encryption software allowing users to protect their files with AES 256-bit security and a password. Wuala Secure Cloud Storage is included for one-year, and provides an online account for users to store their data.
The drive is available in 8GB, 16GB, and 32GB capacities, and is priced at $14.99, $22.99, and $39.99. You can pick up the USB drive from LaCie's online store, or via one of the company's partners. LaCie is a manufacturer of storage devices, and operates in the Americas, Europe, and Asia.
[via LaCie]