LaCie Rugged and d2 storage updated with Thunderbolt 3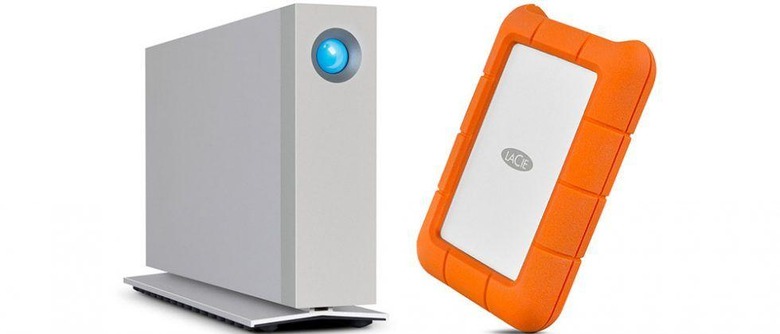 LaCie has announced updates to both its d2 and Rugged storage models, adding USB-C to the Rugged model and Thunderbolt 3 to the LaCie d2. With these updates, users can use the same drives LaCie has previously announced with the latest laptop models, such as the new MacBook Pro. These drives are offered with storage options ranging up to a 5TB hard drive or a 1TB SSD for the Rugged and up to 10TB for the d2.
The LaCie d2 and Rugged models aren't themselves new, rather just the addition of USB-C/Thunderbolt 3 to these models, enabling faster and more convenient data transfers. According to LaCie, the Rugged model is gaining USB-C but also retaining its USB 3.0 functionality, giving the best of both worlds. The company also says there's an integrated Thunderbolt cable that is compatible with the first and second-generation Thunderbolt.
This model features a Seagate BarraCuda drive. The 1TB SSD option in particular boasts speeds up to 510MB/s, which is said to be 30-percent faster than the previous generation. Overall, you could transfer 100GB in something like three minutes, a very fast speed compared to many storage solutions.
The LaCie d2 with Thunderbolt 3, meanwhile, also has USB 3.0. This model features a 7200rpm Seagate BarraCuda hard drive and transfer speeds up to 240MB/s, which is said to be a 10-percent uptick over the last generation. These drives will launch around the global in the first quarter of this year starting at $249.99 USD for the Rugged and starting at $429.99 USD for the LaCie d2.
SOURCE: BusinessWire