LaCie LaCinema Rugged HD gets 1080p and new codec support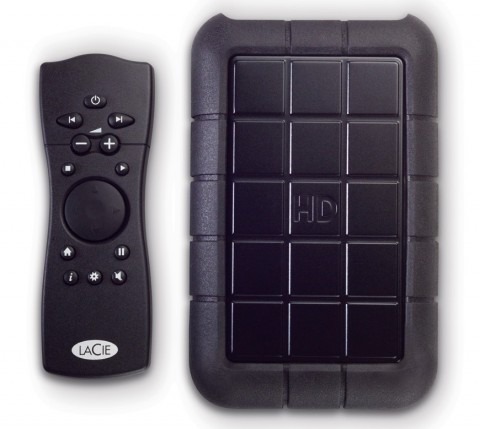 LaCie have given their LaCinema Rugged multimedia hard-drive an HD upgrade, in the shape of the unsurprisingly-titled LaCinema Rugged HD.  The 500GB external hard-drive keeps the shock-resistant chassis, HDMI port and remote control, but now supports 1080p high-definition media in H.264, MKV, WMV9 and MPEG-4 formats.
Full connectivity includes a USB 2.0 port for hooking the drive up to a PC or Mac, an analog stereo audio output, composite video and digital optical audio outputs.  The full list of supported formats includes MP3, WMA, MP4, WAV, OGG, PCM, DTS pass-through, AC3 and AAC audio (though not with DRM encryption), JPEG, GIF, PNG and BMP images, and MPG, AVI, MP4, MKV, WMV, ISO, VOB, IFO, ASF, TS, TP, TRP, MTS, M2TS and DAT video (using MPEG-1, MPEG-2/HD, MPEG-4, XVID, H.264 HD, WMV9 or VC-1 codecs).
The company claims you can store up to 700 movies on the drive, using the remote to navigate the OSD and control playback.  The LaCie LaCinema Rugged HD is available now, priced at $349.99.
Press Release:
LaCie Introduces the First Mobile High-Definition Multimedia Player: LaCinema Rugged HD

Enjoy HD movies on any HDTV
One cable connection to HDTV via HDMI
User-friendly graphical interface
Shock-resistant and designed for mobility

LaCie announced today its LaCinema Rugged multimedia hard drive is now available in High Definition – LaCinema Rugged HD. The LaCinema Rugged product range has the most compact, reliable, and mobile multimedia players on the market. Now, with enhanced HD capability, the LaCinema Rugged HD is the first multimedia player in its class, to allow users to store and play High Definition content – on any HDTV in Full-HD 1080p resolution.

The LaCinema Rugged HD comes with 500GB* of built-in storage capacity, allowing users to store and instantly watch their favorite television shows and movies, listen to music, and display photo slideshows with their family and friends. Compatible with any HDMI supported display, the LaCinema Rugged HD brings multimedia functionality to users while in the home or on-the-go.

Compatible with both Windows and Mac environments, the LaCinema Rugged HD requires a single USB 2.0 cable, connected to the computer for easy, bus-powered multimedia loading. Once the media content is transferred to the LaCinema Rugged HD, it is ready to be viewed on any display with an HDMI connection. The HDMI cable is included for user convenience. For optimized viewing, the LaCinema Rugged HD supports most of standard and high-definition video codecs (H.264, MKV, WMV9, MPEG-4) to ensure easy High Definition playback.

"When it comes to viewing High Definition content, it is hard to find a mobile form factor that that doesn't compromise important features and functionality, like built-in storage, format versatility, and integrated HDMI connectivity," said Christelle Dexet, LaCie Multimedia Product Manager. "The LaCinema Rugged HD not only provides the ultimate mobile design, but it allows users to store large amounts of HD content and play it wherever they desire."

Modeled after the award-winning LaCie Rugged Hard Disk, design by Neil Poulton, the LaCinema Rugged HD features a unique scratch-resistant aluminum shell, internal anti-shock absorbers, and a shock-resistant rubber bumper to better protect media files against everyday blunders. The LaCinema Rugged HD provides the convenience of a centralized media library with enhanced graphic menus, setting features and an easy-to-use remote control for navigation.

LaCinema Rugged HD is compatible with all common digital formats and can store up to 700 movies, 165,000 songs, or 165,000 photos**.

Availability

The LaCinema Rugged HD is available through the LaCie Online Store at the suggested retail price starting at $349.99USD. For more product information, visit www.lacie.com.

About Neil Poulton

Neil Poulton was born in Thurso, Scotland. A graduate in Industrial Design from Edinburgh University and Milan's Domus Academy, Poulton first came into public view in 1989 as the creator of "the ageing pens," pens made from a "living," wearing plastic that changes color and form with use. Today, Neil Poulton designs and develops best-selling, award-winning products for a variety of international clients including LaCie & Artemide. Since 1991, Poulton has lived and worked in Paris, France. www.neilpoulton.com

About LaCie

Located in the USA, Canada, Japan, Australia, Europe, Singapore and Hong Kong, LaCie is the leading manufacturer of computer peripherals for Windows, Apple and Linux users. LaCie creates external storage solutions and color monitors that help professionals and everyday people easily manage their digital lives. LaCie has differentiated its products through original designs and leading-edge technology. Established in France in 1989, LaCie is listed on Euronext under FR0000054314 (LAC). For more information, visit www.lacie.com