LaCie LaCinema Classic HD: 1TB, 1080p HD and DLNA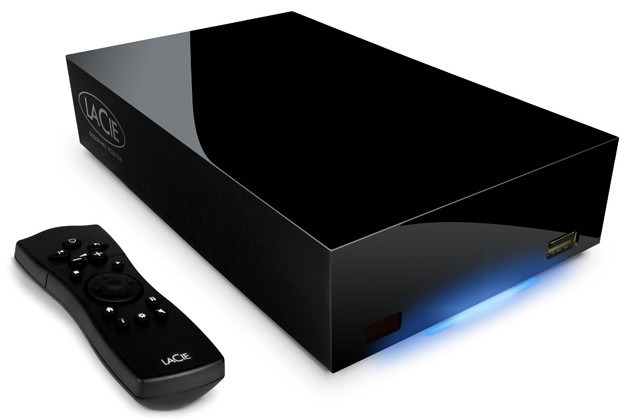 LaCie seem to be going back and filling in any blanks in their mediaplayer line-up right now, neatly slotting the LaCinema Classic HD into the range.  Coming somewhere in-between the non-HD LaCinema Classic and the HDD-free LaCinema Classic Bridge, the new device promises Full HD 1080p playback of various formats – including DivX, MKV, AVC and H.264 – from its 1TB internal hard-drive, together with DLNA media server support.
Connectivity includes 10/100 ethernet, HDMI 1.3, composite audio/video and several USB 2.0 ports, which can be used to attach external storage.  The Classic HD plugs into a host PC or Mac and shows up as a regular external hard-drive; you can copy content across, then use it in standalone mode with the included remote control and your HDTV.
If you've got a DLNA-compatible mediaplayer – which includes an Xbox 360 or PS3 – you can stream content from the LaCinema Classic HD directly to them, too.  It's available to preorder now, priced at $249.99.
Press Release:
LaCie Unveils Full HD Media Player with DLNA™ Media Server: LaCinema Classic HD

Play HD movies in stunning full HD 1080p

Stream movies, music, photos from Mac® or PC

Store up to 1TB of HD media content

DLNA media server built-in

LaCie today introduced the most complete HD multimedia hard drive player, combining Full HD 1080p playback, unsurpassed format compatibility and DLNA media server functionality – LaCinema Classic HD, design by Neil Poulton. Users can browse, play and share HD media collections from anywhere in the home, directly on HDTV.

The LaCinema Classic HD offers a timeless and sleek design making it a great addition to any TV setup. Providing the widest media format compatibility, LaCinema Classic HD will play all your files without concern – from the most popular DivX format to high-quality MKV H.264 video format via its HDMI 1.3 connection. Uncompromising support for Dolby Digital audio quality enhances the LaCinema Classic HD, as well as your entertainment viewing experience.

The LaCinema Classic HD keeps it easy – use it as an external hard drive to load media from your Mac or PC. Then, simply connect the LaCinema Classic HD to your HDTV for instant playback.

Acting as a DLNA media player, LaCinema Classic HD can conveniently play movies, music, and photos from your computer or network storage. LaCinema Classic HD even offers network access to easily transfer files from your Mac and PC, while keeping it connected to the TV.

Its unique DLNA server function ensures the LaCinema Classic HD works in tandem with your home network, acting as a media server to stream content to compatible players, such as PlayStation®3 or Xbox®.

The LaCinema Classic HD boosts capacities that include up to 1TB of media storage. By using the included remote control and easy navigation interface, you have quick and convenient access to your media libraries. Additionally, the front USB port allows you to connect a USB drive or digital camera to instantly share your photos on your HDTV with friends and family.

"LaCinema Classic HD is all you need to store, play and share your movies, music and photos at home. We believe organizing and playing should be simple for everyone, without concern for media compatibility or how to access media, no matter where it's stored in your home," said Salem Tirane, Digital Home Product Manager.

At no premium, LaCinema Classic HD surpasses the usual media player experience by including a high-quality HDMI cable, Ethernet cable and the renowned DLNA Twonky Media Server for Mac and Windows. Users will be able to get the most of their multimedia contents out of the box!

The LaCinema Classic HD also features the option of connecting a USB WiFi 802.11N adapter (sold separately) for wireless access to the home network.

Availability

LaCinema Classic HD is available through the LaCie Online Store, LaCie Reseller+, LaCie Corner, and LaCie Storage Partner, starting at the suggested retail price of $249.99. For more information, visit www.lacie.com.