LaCie add capacity to 500GB Rugged external drive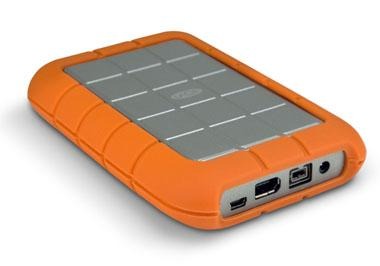 LaCie has announced an update to its ruggedized external storage range, ideal for the clumsy traveller who insists on carrying all their media around with them.  Now available in a 500GB version, with almost no size increase on the older, smaller capacity models, LaCie have given the drive a shock-resistant rubber bumper and scratch-proof aluminium shell.  Inside, there's a well-swaddled 2.5-inch Hitachi Travelstar 5K500 HDD.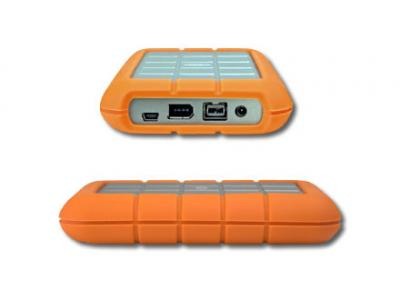 Two versions are being released, one with a single USB 2.0 port and the other with both USB 2.0 and FireWire 400 and 800; maximum data transfer speeds of the latter model reach up to 800Mbits/s.  Power is courtesy of the connection, rather than requiring an external power brick.  As for software, LaCie include their "1-Click" backup app for PC and Mac, as well as SilverKeeper for Mac.  When initially plugged in, a preloaded Setup Assistant offers to format the drive depending on what machines you'll be using it with, as well as transferring the user manuals onto your computer.
The distinctive design is by Neil Poulton, and frankly you'll either love it or hate it.  Prices are $339.99 for the single USB 2.0 model or $399.99 for the "triple-interface" model.  Both versions are available now.
[via Gizmag]