LaCie 2big Dock detailed with Thunderbolt 3, SD Card, CF Card ports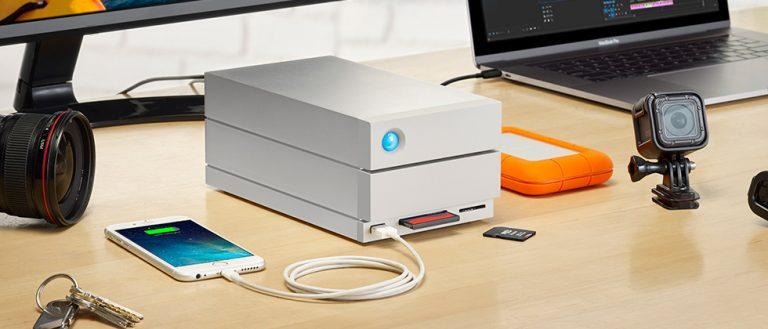 The LaCie 2big Dock is entirely massive – not necessarily big physically by everyone's standards, but big in its capability to handle big jobs. It's made with "up to 20TB of internal storage" and connects to a wide variety of media to store data in a big way. Inside are Seagate IronWolf Pro enterprise-class drives and RAID optimization as well as a LaCie RAID Manager.
On the back of this device you'll find a power port, two Thunderbolt 3 ports, and a single USB 3.1 port – those are all USB-C sized, marked by their specific type near their port. There's also a lovely bubble-shaped holes-grille at the back for the fan, as well as a Kensington security lock. Four standard philips-type screws hold the back end on this machine, giving easy access for cleaning or tweaking of innards – if that's your sort of deal.
Lacie 2big Dock Thunderbolt 3 Specs:
• 2 × Thunderbolt 3
• 1 × USB 3.1
• 1 × DisplayPort
• 1 × USB 3.0 (type A)
• 1 × SD card
• 1 × CF card
• Max Speeds: 440MB/s
• 2 × 7200-RPM Seagate IronWolf Pro enterprise-class hard drives
• Industrial Design by Neil Poulton
Inside this machine is a thermoregulated Noctua fan "for professional reliability." Further cooling is provided by the aluminum that makes up the enclosure for this device. As per the usual with many LaCie devices, this 2big Dock includes a 5-year limited warrantee.
You might find it interesting to see how LaCie is positioning this dock, what with the various 3rd-party stores that carry their product, and all. "Port by port, slot by slot, we designed a powerful docking station that gives back to you everything that modern laptops took away." That includes daisy-chaining up to 5 other LaCie 2big drives or other USB-C / Thunderbolt devices.
Users will be able to purchase one of several base storage sizes for this machine this summer. Three sizes will be available from the outset: 12TB, 16TB, and 20TB. Full pricing and availability will be revealed soon.