Kyocera Torque X01 is an ultra-durable, military-grade flip phone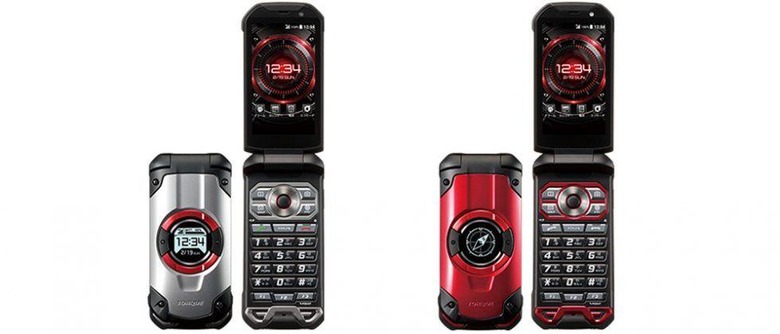 Flip phones may have fallen out of favor in many parts of the world, but they're still popular in Japan, and so it's not surprising that a new model has popped up there. What is interesting is the model's biggest feature: extreme durability covering 18 military standards set by the US Defense Department. Drop it on concrete, use it in a dusty room, take it in the pool...the Kyocera Torque X01 can withstand it all and more.
The Kyocera Torque X01 is made for the Japanese carrier KDDI Corp, where it'll offer subscribers a super durable flip-styled way to make calls and access a variety of features.
Kyocera says this device is more than a dumb phone, and includes a bunch of apps that show data including weather forecasts, atmospheric info, the temperature, barometric data, fish activity levels, and tide information. There's also a pedometer app for tracking activity and a compass.

The handset features a 3.4-inch display that can be viewed in direct sunlight, as well as touch keys that support gloved fingers. There's a pair of front-facing speakers able to output up to 100dB audio, and a rear 13-megapixel camera with Phase Detection auto focus. The handset also has a built-in flashlight that can be setup to flash if the user is in a dark environment and needs others to see them.
Finally, the phone supports features that'll come in handy when you're outdoors adventuring. This includes a loud buzzer for emergencies, a whistle sound to help others find you, a bear bell that keeps sounding so others know you're there, as well as audio notifications that let the user know when they enter and exit a 4G LTE service area.
SOURCE: Kyocera