Kyocera rafre washable phone returns, now body soap resistant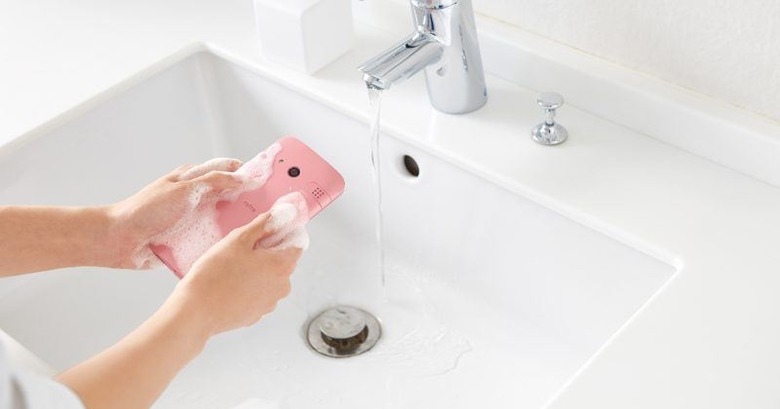 Water resistance is becoming a much sought after property in smartphones these days, with consumers looking at IP rating as much as specs. But IP scores only tell you how long the device might last under water at a certain depth. They don't tell you if it's safe to actually wash the phone with soap and water. Kyocera, famous for its hardened smartphones, said back in 2015 that "yes, yes can!" And now it's saying it again with an all new "rafre", now with resistance to more kinds of soap.
When Kyocera came out with the "rafre", then called the DIGNO rafre, in late December, there was much head-scratching. It's one thing to boast about a smartphone's resistance to liquids, mostly water, but it's a whole different league when you say it's resistance to "foaming hand soap" as well. Apparently, there's a market for that large enough for Kyocera to put out a second gen model with the same name.
This new rafre is now also resistant to foaming body soap. You know what that means, right? Yep, lounging in the tub or taking a shower with your beloved handheld. Now you now longer need to be apart. Since the rafre can also withstand hot water and be operated even when your hand is wet, it makes for the perfect bathroom companion.
The rafre also has a new cooking app that lets you scroll through recipes. The magic feature here is that you can operate the app using air hand gestures only. No need to hold the phone with your grimy hands and accidentally drop it into the pot. But should it survive that, you can simply wash the phone with soap and water and be on your merry way.
Specs wise, the Kyocera rafre isn't anything to write home about, with a 5.0-inch HD (not FHD) screen, 2 GB RAM, 16 GB storage and 3,000 mAh battery. It also has a 13 megapixel rear camera and 5 megapixel front camera. Interestingly enough, it will run Android 7.0 Nougat out of the box. It will be available in Japan from KDDI and there is no word if this soap-friendly, bathroom-loving phone will make its way to other markets.