Kyocera EV-DO router gets thumbs-up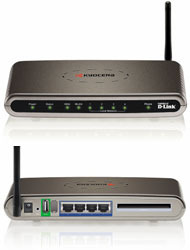 Anybody with an EV-DO card or phone and who would rather share their connectivity than have one computer hog it all could do worse than check out Kyocera's KR1 wireless router.  At least that's the view of Ed Holloway, who has been trying one out with his PCMCIA card. 
Ed found that the connection was more stable, flexible and – surprisingly – faster when using the router than having the card plugged straight into his laptop.
I've heard of groups using routers like these in hotels, rather than pay extortionate fees for wired broadband access in each room – ask to be placed in rooms next to each other, with the wireless connection in the middle.  Bingo!  Internet access and a handy network for file sharing.
Kyocera will spank you for around $299 for the KR1.
Ed Holloway [via GottaBeMobile]