KT Spider Concept Turns A Smartphone Into A Laptop, Gaming Device, And Tablet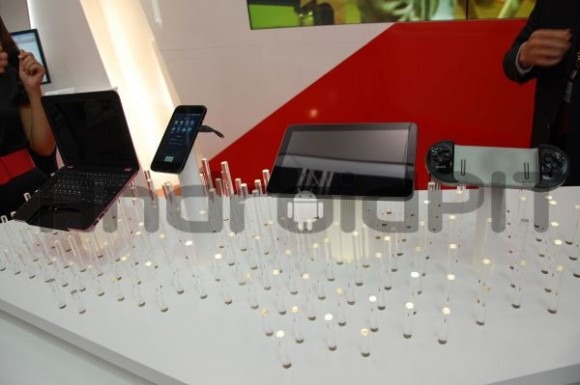 I like to see companies that think outside the box when it comes to products. At IFA 2011 last week a concept device turned up with little fanfare from KT called the KT Spider concept. The concept product has a core smartphone module along with other accessories that allow you to turn that smartphone into something else entirely.
The smartphone has nice specs on its own with a 4.5-inch screen with 1280 x 800 with a 1710mAh battery. The processor behind the smartphone is the Qualcomm 1.5GHz dual-core and the phone has 16GB of internal storage. Other features include an 8MP rear camera and 3MP front. The phone measures 9.5mm thick, weighs 141g and runs Android 2.3.4 with a custom KT UI over the top.
The little modules for the phone to go into are the really cool part about the Spider Concept. The phone has a notebook sleeve with a 10.1-inch screen. The phone docks into the laptop shell where a track pad would normally be and a keyboard is integrated too. The gaming device puts controllers on each see of the phone for more immersive gaming. The tablet sleeve really isn't mentioned. I suspect it would be much like the netbook accessory. Check out the video below to see the concept in action.