Krell offers Class A and fully balanced Ipod Integrated Amp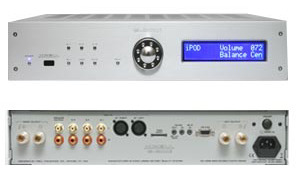 If you want to impress your audio snob father-in-law in the coming holidays season; a Krell with Class A, directed coupled design, and a fully-balanced Ipod Integrated Amp would shut him off in agreement. The high end US audio marker has launched a discrete balanced and Class A integrated Amp S-300i, offering Ipod connectivity with Krell performance and quality at a modest price.
Like its predecessor KID Ipod/Iphone Dock, the S-300i taps audio from the fully differential output of an iPod/ iPhone and maintains this balanced signal throughout the circuitry. A direct iPod connectivity cable is provided as well as a pair of balanced and single-ended inputs. Home theater integration can be easily simplified using Krell's In-house theater Throughput™ mode.
To conserve and deliver powers for maximum dynamic impact, Krell combines a massive 750 VA toroidal transformer, 38,000 microfarads of capacitance and company's Current Mode technology to drive the S-300i with 150 W into 8 Ohms and 300 W into 4 Ohms per channel. Knowing Krell with conservative power rating, you bet it got plenty of juice for most power hungry floor-standing speakers.
Available now and in brushed aluminum silver finish only, the Krell S-300i will set you back $2,500.