Kraftwerk wants to put a power plant in your pocket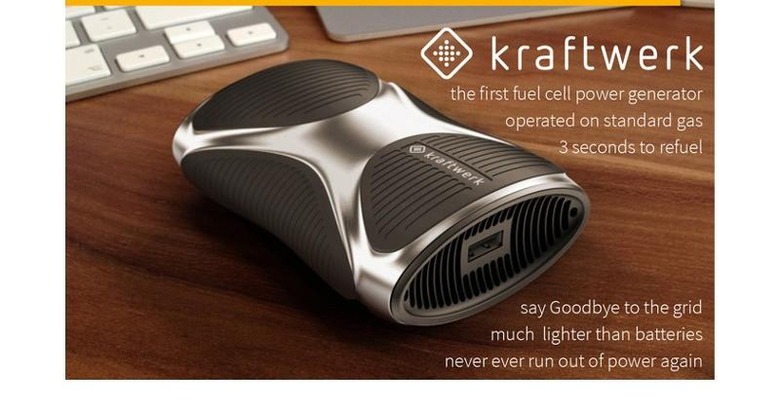 There are quite a number of battery packs in the market, ranging in size, shape, capacity or even gimmick. But there some who are really trying to push the boundaries of that portable battery concept. Take for example kraftwerk, a fuel cell-fueled power pack that relies only on gas, freeing you from being tethered to walls for weeks. In fact, since it uses gas, kraftwerk itself doesn't need to be recharged like your conventional portable battery, completely freeing you from the electric grid.
kraftwerk's fuel cells are powered by gas, the same gas you can get from lighter refills or camping gas. As such, you won't have problems finding a way to refill the pack anywhere in the world. No more struggling with different power sockets or even USB ports. It only takes 3 seconds to refill, which will be enough to power iPhones, smartphones, tablets, and even GoPros. When full, it can charge an iPhone 11 times over, though usual USB charging rates apply.
You might think you will have to carry a tank for this kind of power and convenience, but kraftwerk promises to remain lightweight and portable. It measures only 3.94 in x 2.95 in x 1.18 in and weighs only 7 oz (198 grams). Its design might be mistaken for an electronic shaver, but that only shows how unassuming the powerful power pack can be. And before you start worrying about dangerous materials, kraftwerk has been designed to be safe to use in any condition. In fact, it claims to be FFA approved so that you can use it inside airplanes, whether empty or fueled.
Now for the bitter pill. kraftwerk currently only exists as a Kickstarter campaign, having only finished prototyping last November. If all goes well, it will ship to backers in December. All early bird offers are gone, so the lowest you can pledge is $99 for one or $139 with 12 cartridges in the package. It is close to reaching twice its $500,000 funding goal, which goes to show how much appeal this idea has with today's mobile users.
SOURCE: Kickstarter