Kota Triceratops robot released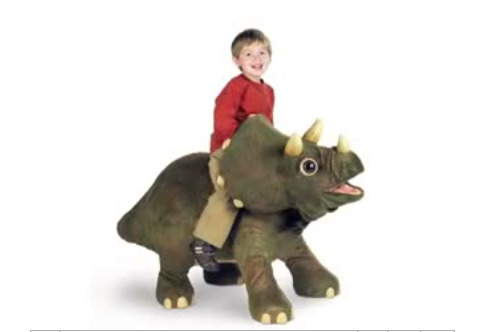 Who doesn't love a good robot? The Kota was supposed to launch last month in September, but now the robot is finally getting its debut to the world. The Triceratops robot is fairly simple, but pretty cute.
Kota is a 3-foot tall robotic Triceratops. It weighs 37 pounds and has somewhat believable movements. It's kid-sized, that's for sure. But this is the sort of toy you need a lot of room for. Your kids can sit on this thing while it performs some animatronics.
The robotic dino can move its head, wag its tail, munch on some fake leaves, blink and even seemingly smile when scratched under the chin. Really cute stuff, here. However, you'll have to shell out $300 for the robo dinosaur, though you can purchase it from a lot of major stores like Amazon, Target, Sears, Hammacher and TRU.
[via CrunchGear]