Korg MicroSampler, WAVEDRUM and SV-1 launch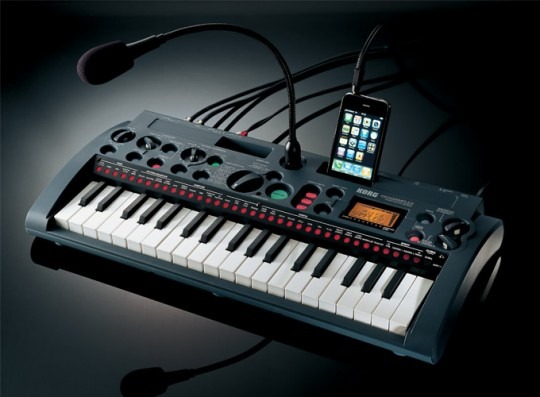 Korg have outed their latest product range, including the MicroSampler mini-synth shown here, a new digital percussion instrument, the WAVEDRUM, and a stage keyboard, the SV-1 Stage Vintage Piano.  Of the three, we're perhaps most intrigued by the MicroSampler, a compact keyboard with a sampler, loop sequencer and onboard effects, all of which are intended to be used in real-time performance.
The MicroSampler can map multiple different clips and loops to each key, with LED indicators showing which is active, and is capable of recording from line-in (such as from your iPhone), from the included gooseneck microphone, and from its own onboard sounds.  There's also timestretching and other pro features, together with effects taken from Korg's well-loved KAOSS PAD series.
As for the WAVEDRUM, that has a touch-sensitive drum-pad surface and a new hybrid DSP synthesis and PCM playback engine; 100 sounds are preloaded, and there are 100 empty slots for you to create your own.  There are also loops and an aux-in input.  Finally, the SV-1 Stage Vintage Piano recreates 36 different classic instruments, including electro-mechanical, transistorized, tape-driven, analog and early digital keyboards, and is available in 73- and 88-key versions.
The Korg MicroSampler is available now, while the SV-1 will ship in October and the  WAVEDRUM in December.  We're waiting on price information.