Korg iMS-20 for iPad puts classic synth on your Apple slate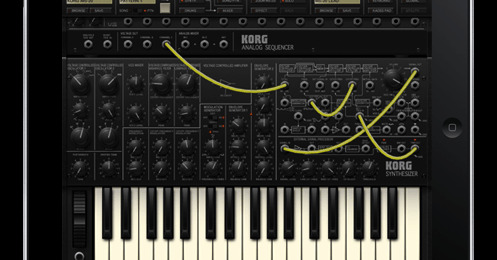 When it comes to delicious, squelchy analog synth noises, Korg are known for having some of the best. Problem is, most of us have neither the funds nor the space for a proper Korg analog synth, and so the company has pushed out its latest iPad app, the Korg iMS-20. A $15.99 download from the iPad App Store [iTunes link], it's a complete virtual recreation of the classic MS-20 complete with a few added extras.
For instance, you don't just get the mono synth, you also get a 16-step analog sequencer, a six-part drum machine and a Kaoss Pad function for more intuitive mangling of the sound. A mixer is included to wire everything up, and there are some virtual patch cables to keep the UI looking authentic.
Once you've come up with some songs you can share them online with SoundCloud (though you'll have to sign up for a free account first). Samples galore here, and the $15.99 price is apparently valid until January 31 2011 after which it will ramp up to $32.99.
Components:

- MS-20 monophonic synthesizer: 1 unit

- Analog sequencer: 1 unit

- 6-part drum machine: 1 unit

- Mixer: 1 unit

- Song/Pattern composer: 1 unit

MS-20 monophonic synthesizer:

- Analog modeling synthesizer (MS-20 modeled by "CMT" Component Modeling Technology)

- 2VCO / 2VCF / 1VCA / 2EG / Patch Panel

- Additional functions: Modulation Key/Tempo Sync

- Insert effect (selectable from 14 effect types as below)

Analog sequencer:

- 16-step analog sequencer

- Control notes, volume, pan, parameters, and voltages via knobs

- Configurable steps (1-16) and sequence mode (6 types)

- Trigger out per channel or step position

6-part drum machine:

- 6-part/16-step drum machine

- Create sounds by sampling a single note from a built-in MS-20

- Controllable notes, volume and pan by knobs

- Configurable steps (1-16) and sequence mode (6 types) per a part

Mixer:

- 7-channel mixer

- Double needle meter indicates VU level

- Master effect (selectable from 14 effect types as below)

Song/Pattern composer:

- Compose a song or select a pattern, built-in mixer

- 16 patterns and 256 bars per a song

- Tempo setting (20-300 BPM) and Swing function

Effect type:

- 14 types: Short Delay, BPM Sync Delay, Reverb 1, Reverb 2, Chorus/Flanger, Equalizer, Compressor, Tube Simulator (Valve Force), Low-Pass Filter, High-Pass Filter, Band-Pass Filter, Talking Modulator, Decimator, Grain Shifter

Controllers:

- Keyboard: Recording function, Variable width (22, 26, or 29 keys)

- Kaoss Pad: 2 units, Recording function

Performance pad: Key/Scale (31 types) settings

Parameter control pad: X-Y axis parameter settings

Other:

- Audio export function (Bouncing a song or pattern, and Real-time recording a performance: 16-bit/44.1 kHz stereo WAV format)

- Publish and share songs online with the SoundCloud audio platform

- Various template patterns by music genre are included

- Various template sounds by sound category are included