Kolos iPad gaming wheel seeks funding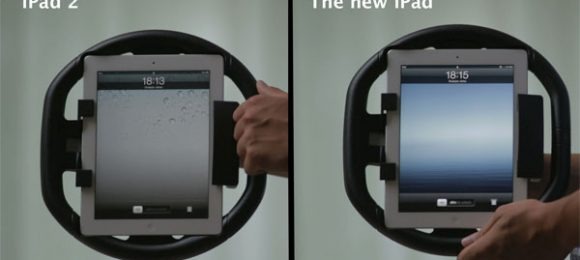 When it comes to playing racing games on consoles or the PC, having a racing wheel makes the games much more realistic and fun. We've seen racing wheels for smartphones in the past, but tablet gamers using the iPad have been left out. A new racing wheel has turned up on indiegogo called the Kolos that is designed specifically for the iPad.
The Kolos wheel will fit all iPads except for the first-generation iPad and the new iPad mini. The steering wheel is made with an anti-perspire rubber coating. It also features a high-quality metalized plastic base and a clamping system made from ABS plastic. In the center of that wheel is where you place the iPad in landscape mode.
The diameter of the steering wheel is 12.3-inches. The wheel has a 70-degree stand position for the best viewing angle, and the wheel rotates 180-degrees. The Kolos has an auto-centering function, and the wheel can be detached from the base.
The project is seeking $150,000 and has 28 days left until the deadline for funding. So far, only $745 has been pledged. A pledge of $50 will get you the wheel only, with no base or clamp system. To get the wheel, the base, and a clamping system requires a pledge of $85. Estimated delivery is May 2013, but there is no guarantee the project will reach its funding goal.