Koenigsegg Agera RS Rockets 0-400km/h-0 in 36.44 seconds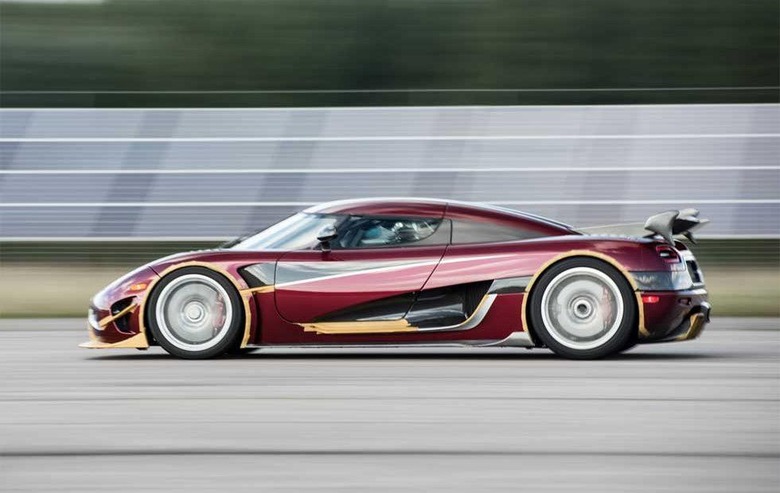 The Koenigsegg Agera RS is one of the sexiest and fastest of all the hypercars in the world. Recently the company put test driver Niklas Lilja behind the wheel of a customer owned Agera RS to run the car up to 400 km/h from a standstill and then return the car to a dead stop, as quickly as possible. For those of us in the States this is a run from zero mph to a bit over 248 mph and back to zero mph.
Koenigsegg says that it took the Agera RS 26.88 seconds to reach 400 km/h and a distance of 1.21 miles to reach that speed. The driver of the car needed only 9.56 second to come to a stop from that speed and 2,441 meters of distance which is about five and a quarter football fields of length.
The entire run took about 1.51 miles from stop to stop. The team uses AIM EVO5 data logger with an AIM GPS08 to record the speed and times. The car used for the run was setup for delivery to the US and has a 1MW engine upgrade with 1360 hp and 1,011 ft-lb of torque.
The car is fitted with the optional and removable Koenigsegg rollcage that adds weight, but is recommended for extreme driving. That roll cage can be removed by the owner in a few hours. The run had originally been planned for September 30 and October 2 in Germany, but poor weather postponed the run.
With good weather in southern Scandinavia on October 1, the team ended up using Vandel Airfield in Denmark. It's worth noting that the ugly orange-yellow color on the car is actually industrial tape to protect the surfaces from damage.
SOURCE: Koenigsegg