Kodak Slice touchscreen 14MP digicam on sale now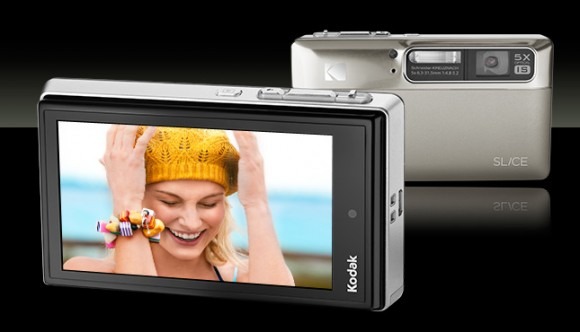 Announced all the way back at CES 2010, Kodak's latest point-and-shoot digital camera has finally gone up for sale.  The Kodak Slice is a 14-megapixel compact, with an internal 5x optical zoom, image stabilization and a 3.5-inch 16:9 capacitive touchscreen on the back.  As well as taking photos it can record 720p HD video at 30fps.
As well as 2GB of onboard storage there's a microSDHC card slot, though you'll have to make do with USB 2.0 as there's no HDMI or A/V connectivity.  There's both face and scene detection, and an automatic "Smart Shoot" mode which will pair those features with ISO and dynamic range balance for better shots.  ISO settings from 64 to 3200 are possible.
Finally you get a "Share" button which allows you to preselect which photos you want to upload to various different social networks – including Facebook, Flickr and YouTube – and have them automatically sent when you next plug the Slice into your computer.  The Kodak Slice is available now, priced at $349.95.