Kodak PixPro Smart Lens SL10 and SL25 take on Sony QX, arrive this spring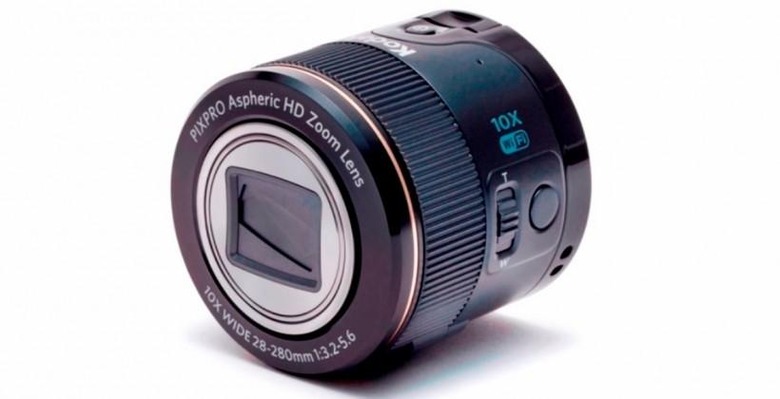 Kodak took the wraps off it competitors to Sony's QX cameras last week, the Kodak SL10 and SL25. Both are small cameras designed to snap onto Android smartphones and the iPhone, offering features that likely extend beyond the smartphone's camera offering and brings wireless control via an accompanying app. The models are very similar to the Sony QX10 and QX100, which went on sale back in September 2013.
Perhaps the biggest draw for the SL10 and the SL25 is the high optical zoom rates, offering the ability to zoom in on objects without the degradation that comes with digital zoom — the only offering provided by most smartphones out there. The names of each model hint at their respective zoom rates; the SL10 offers a 10x optical zoom rate, and the SL25 offers a 25x optical zoom, with both of them being wireless and controllable via a mobile app.
The SL10 features a 28 – 280mm wide-angle lens, providing a pretty wide field of view for capturing images at a close distance. The SL25 is similar, but instead offers a 24mm wide-angle lens, taking things up a notch. Beyond that, both models are largely the same, offering 1080p high-definition video recording and optical image stabilization, another perk not found on the majority of current smartphones. There's a microSD slot for storing images.
The SL10, obviously, is the cheapest of the two, being priced at $199 USD, while the SL25 is a bit higher at $299 USD. There are no hard date for when these two models — both of which appear larger in size than competing Sony offerings — will be hitting shelves, digital or otherwise, but Kodak says it'll be available for purchase some time this Spring.
SOURCE: Kodak